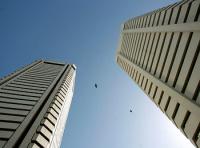 Rating agency Crisil on Monday said funding cost for Indian corporates are expected to become expensive with the downgrade of US sovereign rating by Standard & Poor's recently.
"The primary impact will be on the availability and cost of funding, both domestic and international," said Roopa Kudva, CEO of Crisil, the Indian subsidiary of S&P's.
Globally, an increase in risk aversion will reduce the appetite for emerging market risks and could affect the ability of Indian companies to raise money externally. Access to equity markets, too, is likely to be muted, she said.
"The second impact will be on demand: export growth is likely to slow down and domestic private
consumption, which has been strong so far, could moderate as consumers become more cautious," she said.
Volatility in exchange rates are also expected to increase, she said.
Crisil further said that easing of pressures on global crude and commodity prices will be the partly mitigating factors in the entire scenario.
Moreover, Indian companies are likely to be cushioned by a primarily domestic consumption-focussed economy.
"While we will continue to see upgrades, we can expect a higher number of downgrades (of companies) and higher defaults. Rating actions so far already reflect this expectation," it said.
In the first quarter of 2011-12, it said, 105 companies have been downgraded while 269 were downgraded in the entire year of 2010-11.