Only 50 per cent land acquisition consent received by August 31 deadline, despite state government's offer of thrice the circle rate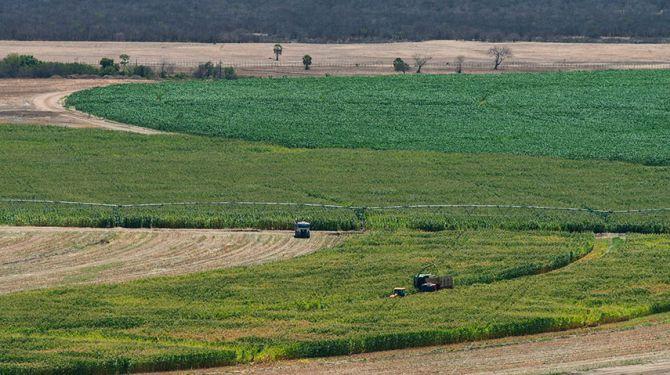 The Jewar International Airport project in Gautam Budh Nagar district of Uttar Pradesh continues to hang fire as farmers in six villages of Jewar tehsil play the hardball over land acquisition.
The project, estimated to cost around Rs 16,000 crore, needs about 5,000 hectares, and the airport alone would need more than 1,300 hectares to become operational by 2022-23.
So far, 1,700 landowners have submitted their consent letters, and 650 hectares have been acquired even five days after the tentative deadline of August 31 from the concerned farmers.
Recently, chief minister Yogi Adityanath has also advised farmers to cooperate with the state government for the project, which is touted to give a major fillip to the socioeconomic development of the region, lest it is forced to be shifted to some other state such as Haryana.
While the state government has offered about three times the applicable circle rate for the land, amounting to Rs 2,300 per sq mt, the farmers have been pressing for at least four times the circle rate, apart from other benefits.
Last week, the Adityanath government had allocated Rs 8 billion for land acquisition in the supplementary budget, which was tabled and later approved by the state legislature.
The proposed airport is one of the state's flagship projects, apart from the Bundelkhand Defence Corridor, Purvanchal Expressway, Bundelkhand Expressway.
Meanwhile, considering the importance of the project, Jewar legislator Dhirendra Singh has joined the district administration and the Yamuna Expressway Authority officials to negotiate with the farmers.
District magistrate B N Singh told Business Standard talks were on with the landowners.
While, most landowners have been supportive, the compensation amount continues to be a thorny issue since farmers expect the prices of surrounding land to increase exponentially once the mega project becomes operational.
Therefore, they want to be adequately compensated to secure their future.
The administration had already identified plots for resettling the farmers, especially those who are set to lose their entire land and property for the project.
The project, to be developed under the public-private partnership (PPP) model, had been in limbo over the last 17 years after it was first conceived in 2000, owing to regulatory and clearances issues.
Photograph: Davi Pinheiro/Reuters