UP is an important state to roll out the government's agrarian reforms and job growth policies.
Illustration: Uttam Ghosh/Rediff.com.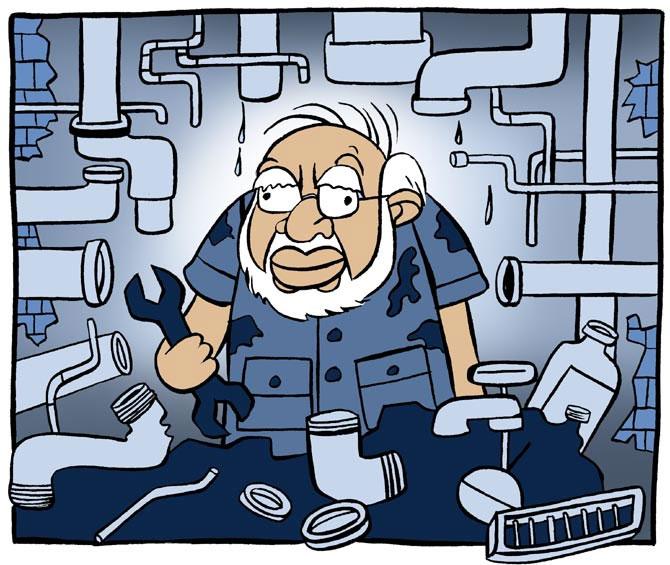 Prime Minister Narendra Modi on Sunday tweeted that a "new India" was emerging, powered by the strength and skills of 125 crore Indians and "this India stands for development".
Modi's tweet, and his speech at the Bharatiya Janata Party national headquarters in New Delhi, indicated that his government -- with key states of Uttar Pradesh and Uttarakhand having been won -- was set to mix the politics of welfare of the poor with good economics.
The next 15 months, with no challenging assembly polls on the horizon, give the Modi government a window to unveil its reform agenda. The target will be improving the income levels of farmers and providing jobs to the youth.
Home to a sixth of India's population, UP is an important state to roll out the government's agrarian reforms and job growth policies. BJP's national spokesperson on economic issues, Gopal Agarwal, says his party's victory in UP is not just a mandate for good governance and pro-poor policies of the Modi government.
The victory, he adds, will help seamless implementation of the Centre's policies in UP.
"Without development of UP, India's growth story will remain unfulfilled. Pro-poor economic development is one of the major vote-catchers because our government has tried to end corruption and leakages," Agarwal says, adding that economic growth is needed to have more resources for pro-poor welfare policies.
Shashank Bhide, director of Madras Institute of Development Studies, agrees that having a stable government at the Centre and as well in the state should help in more stability in policies and programmes and aligning them better with a focused approach.
"At the same time, it has been seen that despite having two different sort of governments in the Centre and states, states themselves have progressed quite rapidly than they have been in the past. That apart, I feel that one big outcome of the UP results could help in attracting more investments in the state," Bhide says.
While the Modi government at the Centre is set to pursue policies that focus on job growth, central programmes related to the agriculture sector are all set to get a big push.
According to Agarwal, the Modi government is looking to improve the ease of doing business to spur entrepreneurship and also to bring the unorganised sector into the formal sector. This year's Economic Survey had identified micro, small and medium enterprises as a driver for job growth.
Going by BJP's manifesto for UP, in the agriculture and farming sector, there are almost 10 priority areas of the central government for India's most populous state and set to get a big push.
The BJP has promised doubling farmers' income by 2022 across India, including UP. In UP, the BJP has promised to convert all vegetable and cereal mandis into e-mandis: The Centre's ambitious programme to connect all the mandis across the state through a common portal E-NaM is already on, and so far, around 65 mandis have been enrolled in the portal.
A BJP government in Lucknow will extend the PM Crop Insurance Scheme to all the willing and needy farmers. In the just concluded rabi season, around 19 million hectares have been brought under insurance with UP figuring among the top states.
Other efforts in the agrarian sector will include soil health cards for all farmers in three years. This ongoing programme of the Centre has been one of the laggards in UP, and so far, just around 27.15 per cent cards have been distributed.
A BJP government in UP is also likely to set up a special Rs 20,000 crore CM's Irrigation Fund. The Centre has already provided over Rs 40,000 crore to the National Bank for Agriculture and Rural Development to speed up irrigation projects across the country, which would help in fulfilling the objective.
It would also set up a Dairy Development Fund. Already, an announcement for creating a special fund at the Central level has been made with an initial corpus of Rs 2,000 crore, which would be scaled up to Rs 8,000 crore in the next three years.