Were they sleeping till now? retorts Mallya, as he and United Spirits get set for a lengthy legal battle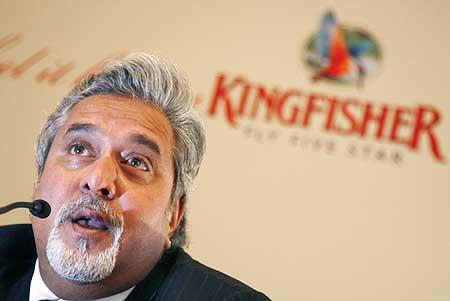 When Diageo Plc, the British liquor major, took over United Spirits from UB Group in a $2.1-billion transaction in November 2012, it had hailed this as a big step to enter a market which would be second only to America in consumption.
Additions to its profits would take place, it said, the second year onwards.
The maker of Johnnie Walker and Guinness is now realising that its acquisition of USL has not gone according to the script. And, its Indian subsidiary is now set for a lengthy legal battle with Vijay Mallya, Chairman of UB Group, over loans and advances from USL worth Rs 2,100 crore (Rs 21 billion) to various UB entities.
Mallya said on Sunday his group does not owe a single penny to USL -- taking into account the previous annual reports.
"Our companies do not owe anything to USL.
The previous annual reports have been cleared by the then board, tax has been paid to government and shareholders have approved the accounts. . . so where is the question of Rs 2,100 crore (Rs 210 billion)?" Mallya said on Sunday.
Diageo's condition is similar to Japanese pharmaceutical giant Daiichi.
The latter had acquired Ranbaxy in June 2008 for $4.6 billion, to later discover the Indian company had violated US Food and Drug Administration norms before the acquisition.
A fine of $500 million had to be paid to FDA, there were other problems, and Daiichi first sold Ranbaxy and then exited India altogether, selling the remaining shares it had in Sun Pharmaceutical, which it had got after Ranbaxy's merger with Sun. Its India journey was a disaster.
Diageo is now having a Daiichi moment.
Despite four months of due-diligence before the deal with UB, it is now alleged by USL, a subsidiary of Diageo, backed by reports from BSR & Co and later Pricewaterhouse Coopers, that Mallya-owned entities had got loans and advances from it before the deal.
"What due-diligence was done by Diageo before the deal? Now, after two years, they are making these allegations… were they sleeping?" asked Mallya on Saturday, after the USL board of directors told him to step down as chairman.
"The PWC report is full of half-truths. I will take this up with Diageo," he said.
Mallya said he will continue as chairman, presiding over monthly operating review and board meetings.
"I have a valid contractual agreement with Diageo Plc, which directly addresses my position as Director and Chairman of USL. I will discuss this bilaterally with Diageo.
"I reiterate that the PwC report and subsequent opinions received are severely flawed and will be challenged," said he.
Corporate lawyers say a lengthy legal battle now awaits Diageo subsidiary in India.
Or, USL will have to provide for up to Rs 2,100 crore (Rs 21 billion) of loans and advances to various UB Holdings (UBHL) entities and for Kingfisher's liabilities.
"Diageo will have to sit at the negotiating table once again with Mallya," said a lawyer.
"This obviously means an increased cost of acquisition for Diageo...It is not going to be easy, as Mallya is an old war horse."
That isn't all.
USL is already contesting a Karnataka High Court order at the Supreme Court, which sought a probe by the enforcement directorate and the Reserve Bank of India on alleged diversion of Rs 4,000 crore (Rs 40 billion) from USL to entities based in the tax haven of the British Virgin Islands.
The matter is pending, with the SC ordering status quo last year.
The HC had said on December 20, 2013, that the fund diversion needed to be investigated and USL had not come to the court with clean hands.
The order came after Mallya's Kingfisher Airlines defaulted on loans and payments to aircraft lessors and engine makers to the tune of Rs 7,000 crore (Rs 70 billion).
The bankers, including BNP Paribas and State Bank of India, sued the airline and its guarantor, UBHL, asking for their money back.
The court said USL had not given any documents to prove, as it had argued, that the money was diverted in 2007 for the acquisition of Whyte & Mackay, a Scottish company.
USL has since (in May last year) has sold off Whyte & Mackay for Rs 4,345 crore (Rs 43.45 billion) and now owns 59 per cent stake in USL.
USL insiders say the company appointed PwC after the company's auditor, BSR & Co, pointed out in its FY 2014 report that before its acquisition by Diageo that USL had advanced certain amounts to some UB Group entities and there was no clarity on its recovery.
"These claims, received in the current year, may indicate that all or some of such amounts may have been improperly advanced from the company to such parties for, in turn, being advanced to the UB Group entities," the auditor said, asking for a detailed enquiry.
The company had provided Rs 649 crore for this last year.
The USL board then directed a detailed inquiry into the matter and authorised initiation of suitable action and proceedings as considered appropriate by Managing Director Anand Kripalu -- appointed by Diageo after its takeover -- for recovering the company's dues from Mallya entities.
In another instance, the auditors said USL had got a letter dated May 5, 2014, from the lawyers of an "alleged claimant" that it had advanced loans amounting to Rs 200 crore (Rs 2 billion) to Kingfisher and USL created a lien on certain of its investments in favour of the claimant as security for the loans.
The claimant said the airline had defaulted in repayment on the loans and interest of Rs 79 crore (Rs 790 million) and USL should pay or create a valid pledge on the specified investments.
USL denied knowledge of such a transaction and is contesting the claim.
The auditor also said USL and its subsidiaries had various pre-existing loans/advances/deposits due from UBHL.
During the current year, pursuant to a previous resolution passed by the board of directors, on October 11, 2012, these dues and interest were consolidated into an unsecured loan aggregating to Rs 1,337 crore (Rs 13.37 billion) in an agreement dated July 3, 2013.
The loan was granted for eight years, with a moratorium period of six years.
Certain lenders have filed petitions for winding-up against UBHL, which had provided guarantees to lenders and other vendors of Kingfisher.
These have been invoked and are currently being challenged in the courts.
Image: Vijay Mallya. Photograph: Reuters