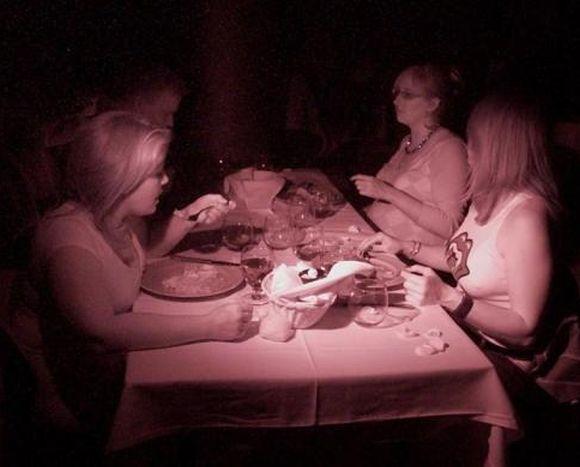 Image: A unique dining experience. Photograph: Reuters.
Image used for representation only.
Darkness pervades India's first 'Seeing in Dark' restaurant-theatre built in the upscale Vastrapur area in Ahmedabad where visitors can experience life without light just like a visually impaired person.
The recently inaugurated facility set up by Blind Peoples' Association (BPA) has all black wall paint, floor, curtains, tables and chairs, air-conditioners and fans, leaving no scope of illumination once a visitor enters the area.
You have to make your way to the table in pitch darkness, order your food, and have it in an environment without an iota of light. You are barely able to see your plate leave aside the food items you eat.
Here you can also experience a movie session in a 50 seater jet-black theatre, listening to only the audio of Aamir Khan starrer 'Tare Zameen Par'.
"The idea is not new, there are such restaurants in western countries. We have took it up from them but this is the first of its kind in India," Director of BPA Nandani Rawal told PTI.
"The aim is two fold, in a society where we see that sensitivities towards others are going down, we want people to have an experience of how life is if you do not have eyesight. This might increase their understanding for those who do not have it," Rawal said.
"People like us, who are gifted with all our organs in working condition, take them for granted. With the experience of 'seeing in dark', we will appreciate and thank God that all our organs are in good condition," she said.
All the services are provided here to visitors by trained blind people, he added. "After being inside the restaurant and theatre for five minutes, visitors find it a moving experience," social coordinator of BPA Jagdish Trivedi said.
BPA plans to expand 'seeing in dark' concept by building more such facilities on the same premises where people can experience things like a village 'chauraha' (crossroad), "We spent around Rs 80-90 lakhs for these facilities as we have housed it in our building basement. But, money spent on it is not important as we want to create more sensitivity in people and especially children who will be visiting here. Anybody can come and visit these facilities," Rawal said.
Trivedi says they also have plans to fit the facilities with night vision CCTV cameras to monitor the experience and ensure that nobody takes advantage of darkness.
BPA is an NGO which works for all categories of people with disabilities for providing them education, employment opportunities, equal rights and quality life.


© Copyright 2022 PTI. All rights reserved. Republication or redistribution of PTI content, including by framing or similar means, is expressly prohibited without the prior written consent.