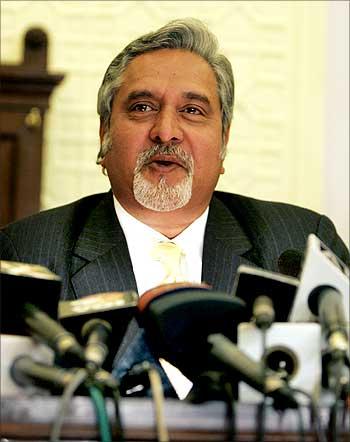 United Bank of India has asked Vijay Mallya and three other directors of grounded Kingfisher Airlines to appear before a panel of the bank at the head office in Kolkata on July 9.
"The recovery department of the bank has sent a letter to them asking chairman Vijay Mallya and three other directors of Kingfisher Airlines to appear on July 9 before the grievance redressal committee of UBI," bank's Executive Director Sanjay Arya told PTI.
Arya said that they had been asked to appear so that they could get a chance to defend themselves before the bank declares them as wilful defaulter.
The bank had earlier sent a notice to Mallya and he was given 15 days time to give a reply. Subsequently Mallya requested that he had something to say in this regard.
UBI was the first among other banks in the country to take such a stern step against the grounded airline. The bank's exposure to Kingfisher Airlines was around Rs 350 crore (Rs 3.5 billion).
Arya said that a lender declares a person a willful defaulter when it is satisfied that the borrower does not pay despite having the ability and funds diversion.
"We have thoroughly scrutinised all the documents and we are completely satisfied," he said.
The country's largest lenderState Bank of India was also exploring ways to declare Mallya a wilful defaulter and was currently making forensic audit of the documents.
A person declared wilful defaulter would lose directorships in companies and would never be able to borrow further.