With a new campaign that talks about apnapan, Uber challenges Ola's homegrown narrative.
Alnoor Peermohamed reports.
Illustration: Uttam Ghosh/Rediff.com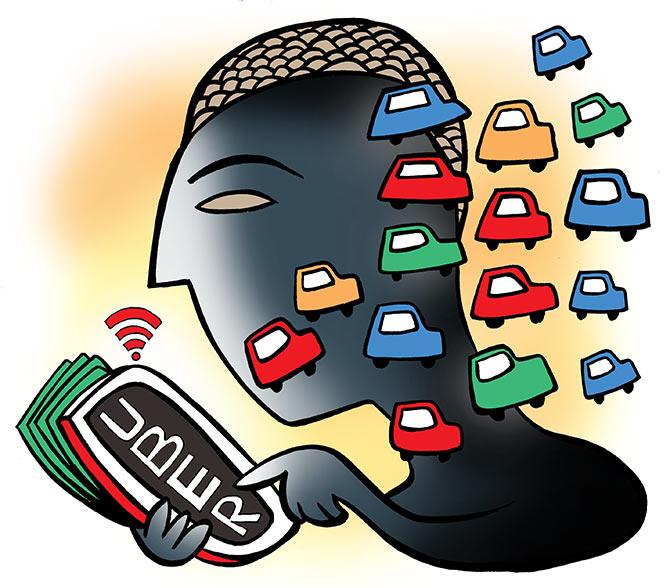 It has not been an easy year for global ride-hailing major Uber.
A series of scandals since January 2017 has left deep scars on the brand globally and in India too, where it is fighting to topple local rival Ola.
Now with a new marketing head in place and an eye on the mass market, Uber India seems keen to shed its foreign image with a campaign that positions it as a brand steeped in local culture.
With this it hopes to deflect global outrage, reach out to a larger demographic and challenge the notion that rival Ola is the only local in town.
The new campaign (external link) uses 'apnapan' or togetherness as its core theme.
The ads talk about unique rider experiences, helpful drivers, ease of booking and so on.
Uber's desire to present a more Indian face stems from a desire to take on home grown brand Ola on its home turf.
Ola has always highlighted its all-Indian image and like Uber, is hugely active on social media. It has recently signed Virender Sehwag as brand influencer.
Unlike its previous marketing efforts, however, Uber has launched its latest campaign on television.
This is an attempt to reach out to a population that does use taxis, but is not as familiar with the digital universe and at the same time provide the brand greater visibility in spaces it was absent.
"The Uber experience is as good as having your own car, and sometimes even better. So we've attempted to capture that way of life through a simple thought around apnapan," said Pallavi Chakravarti, executive creative director at Taproot Dentsu, the agency behind the new campaign.
Based on real stories narrated by drivers and riders on its platform, Uber says the public will be able to closely relate to the new advertisements.
The point the company will try to drive home is Isey apni hi gaadi samjho (think of it as your own car), which ties in with Uber's long term goal of replacing car ownership, the company said.
In a way, this represents an attempt to make the brand a larger part of everyday lives.
While Uber has largely been focused on capturing audiences on the Internet and through a few offline hoardings, its rival Ola has used all major mediums for quite some time now.
With the new channel, Uber will follow its rival to target users on digital, television and radio.
The TVC and radio ad will air in multiple languages like Hindi, Marathi, Bengali, Kannada, Tamil and Telugu.
Recently Uber announced that it had completed 500 million rides in India over the past four years, and had over five million active riders on its platform on a weekly basis.
While the company claimed its service grew by over 250 per cent in the past year, market watchers have pointed out that the ride hailing industry has slowed down by around 5 per cent since the start of 2017.
As both Uber and Ola have increased fares and cut driver incentives, the number of customers using their platforms has seen a drop.
There could be a number of reasons for the customer pull back.
For one, the pricing structure has many customers opting out as it pushes up the cost of a ride manifold during peak hours.
Another reason is safety, despite the strong pitch that both Ola and Uber make about rider safety; a few experiences of racist slurs, molestation and rude behaviour have put riders off.
These experiences gather traction and end up doing far more damage to the brand even if the incidents are few and far between because they are widely circulated on social media.
Both companies have faced a push back from drivers too because many went off the platform in protest over reduced earnings.
This, in turn, has impacted service as it increases the wait time for a cab and pushes riders off the app.
While these are issues that the brands need to tackle by improving their operational structures, internal communication and technological systems, Uber's campaign is an attempt to create greater acceptance for the company and indicate its commitment to the country.
Through the new campaign, Uber will look to tap new users while also reinforcing the idea that hailing a cab is an everyday ritual for everyone, rather than just reserved for occasions for a select group of people.
"At our scale, there are millions of amazing stories that we hear each week -- stories of heart-warming experiences that take place between riders and driver-partners across he country. It's these stories that keep people coming back to ride and drive with us," said Sanjay Gupta, head of marketing at Uber India.
Convenience and effortless rides, that is what the Uber ads seem to promise.