Of the 11,000 kg imported between July 1 and August 9, around 90 per cent was brought in by two business groups which took advantage of the favourable reduction in tax incidence under GST, routing their imports through Korea.
Dilasha Seth and Rajesh Bhayani report.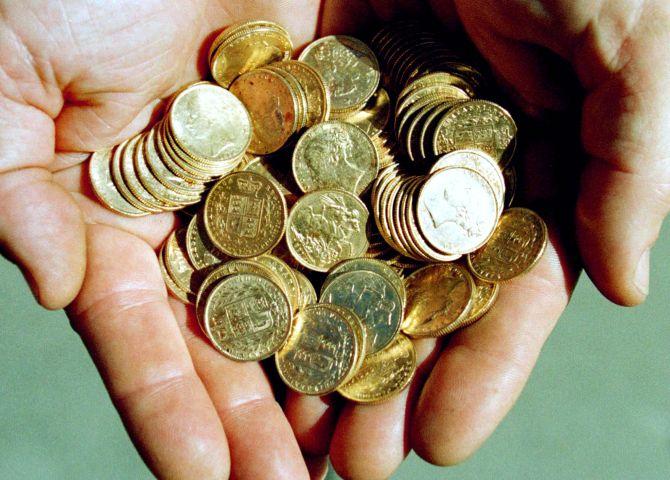 Only two entities have together imported close to 10,000 kg of gold from India's free trade partner of South Korea since July, after implementation of the goods and services tax.
These imports in the form of coins and medallions have surprised the government which is now examining ways to impose interim restrictions.
Of the 11,000 kg imported between July 1 and August 9, around 90 per cent has been brought in by two business groups which have taken advantage of the favourable reduction in tax incidence under GST, routing their imports through Korea, say government sources.
One of the two, a leading player in the jewellery business with a bullion refinery in Uttarakhand, is learnt to have imported around 7,000 kg.
The other is a Delhi-based trader in the bullion business for over a generation, imported around 3,000 kg.
"Only two players have imported almost all the gold. The free trade pact has been misused. Some restrictions will be put in place soon. Beside, a permanent solution is also being deliberated to ensure such cases do not come up," a senior government official said.
Revenue Secretary Hasmukh Adhia met Commerce Secretary Rita Teotia on Tuesday, August 8, to examine what could be done.
Bullion industry associations plan to formally complain to the directorate general of safeguards in the finance ministry.
In an exchange at the government level, Korea told India that Korean entities are not involved in this export of gold to India.
"It appears Indians themselves have routed gold through Korea. Investigation is still on," said another official.
Currently, gold imports attract 10 per cent basic customs duty and a three per cent Integrated GST (IGST).
However, the import from Korea is exempted from customs duty under the 2009 agreement, and the importer only has to pay three per cent IGST.
Until June, the excise duty on gold and jewellery was 12.5 per cent which acted as countervailing duty for imports under the free trade agreement.
Beginning July, the excise duty was subsumed in the GST; hence, the protection from gold import under the treaty has gone.
The rules of origin certificate under the Comprehensive Economic Partnership Agreement include a change in classification of a product, such as a change from raw material to coin or jewellery, but not a designated percentage of value addition.
Value addition norms for Thailand are 20 per cent.
In an e-mailed reply on the issue, Revenue Secretary Adhia said, "We are aware of the fact that there is a sudden surge of import of gold coins and medallions from South Korea in the month of July."
"The commerce ministry and finance ministry are jointly exploring options to curb this," Dr Adhia added.
The options available include temporary suspension of gold imports from Korea, levy of safeguard duty, mandating import of gold for export purposes and a hike in the IGST rate to 10 per cent among others.
Safeguard duty is a World Trade Organisation-compatible temporary measure brought in for a certain timeframe to avert damage to a country's domestic industry from cheap imports.
"Ideally, the GST Council should decide on raising the IGST to 10 per cent, equivalent to the basic customs duty, at least for the time being. But it might not be a politically easy call and states might not come on board," said another official.
India's comprehensive FTA with Korea came into effect in 2010.
Under the pact, India agreed to eliminate duties on 75 per cent of products imported from South Korea on a custom-value basis during the eight years from 2010.
South Korea agreed to remove duties on 93 per cent of products from India during the same period.
Rajesh Khosla, managing director, MMTC-PAMPS, the leading bullion refinery, said: "The government was aware since early June that the protection from zero-duty gold imports (from countries with which India had signed FTAs) will be ending once GST is implemented."
"Hopefully, that preoccupation will be over now and it is high time the government quickly set things right and resolved the issue," Khosla added.
Photograph: Ian Waldie/Reuters