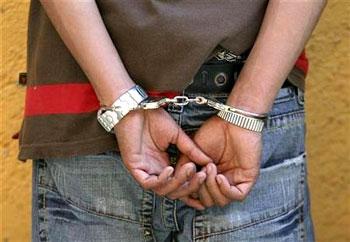 Two Indian-Americans, who recruited foreign workers mainly from India with purported IT expertise, were arrested in New Jersey on Wednesday on charges of H-1B visa fraud.
Hiral Patel, 32, and Shikha Mohta, 31, employees of SCM Data Inc and MMC Systems Inc have been charged with one count of conspiracy to bring in and harbour aliens and to obstruct justice.
Both are residents of Jersey City.
They are scheduled to make their initial court appearances later today.
The conspiracy with which Patel and Mohta are charged carries a maximum potential penalty of five years in prison and a $250,000 fine.
The federal complaint alleges that Patel, Mohta and other conspirators sponsored the foreign workers' H1-B visas with the stated purpose of working for SCM Data and MMC Systems' clients throughout the US.
When submitting the visa paperwork to the Department of Homeland Security (DHS), they falsely represented that the foreign workers had full-time positions and were paid an annual salary, as required to secure the H-1B visas.
Contrary to these representations and in violation of the H-1B program, Patel, Mohta and others paid the foreign workers only when they were placed at a third-party client who entered into a contract with SCM Data or MMC Systems, the federal complaint alleged.
According to federal complaint, in some instances Patel, Mohta and others generated false payroll records to create the impression that the foreign workers were paid full-time wages.
"On multiple occasions the conspirators required workers to pay SCM Data or MMC Systems their gross wages in cash," the complaint alleged.
In exchange, SCM Data or MMC Systems would subtract taxes and fees and issue payroll checks to the foreign workers in a smaller amount.
The conspirators then encouraged the foreign workers to submit the bogus payroll checks to the DHS as proof that the workers were engaged in fulltime work despite the fact that they were not working for SCM Data and MMC Systems, federal prosecutors alleged.
This scheme provided Patel, Mohta and others with a labour pool of inexpensive, skilled foreign workers who could be used on an "as needed" basis.
"The scheme was profitable because it required minimal overhead and SCM Data and MMC Systems could charge significant hourly rates for the foreign workers' services," the prosecutors alleged.
© Copyright 2022 PTI. All rights reserved. Republication or redistribution of PTI content, including by framing or similar means, is expressly prohibited without the prior written consent.