Using Twitter, the popular microblogging site, could land your computer in trouble. A rogue worm has hit the site, which directs the victim to an IP address, asking to download a fake antivirus.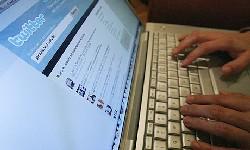 The cyber security wing of the Department of Information Technology (DIT) has warned users on the online site to beware. It has suggested all Twitter users refrain from downloading any links posted on Twitter.

"Exercise caution while clicking on any link in tweets inside the e-mail message, instant messages or web pages," the Cert-In said.

Twitter is a website offering a social networking and microblogging service, enabling its users to send and read messages called tweets.

Tweets are text-based posts of up to 140 characters, displayed on the user's profile page.

The scam spreads through malicious links abusing the goo.gl URL shortening service. If an unwitting user follows the links, they are directed to a fake anti-virus page after multiple redirections.

From there, the domain redirects the user to an IP address pushing a fake antivirus. Once on the website, the victim gets a warning that his/her machine is running suspicious software.

The user is then invited to remove all the threats from their computer by downloading a fake anti-virus called Security Shield.

Del Harvey, director of Trust and Safety for Twitter, had tweeted that the company was working to remove the malicious links and reset passwords on compromised accounts.

Similar attacks on Facebook, Orkut and other sites had come to light. With their growing popularity the networking sites are a favourite with hackers.