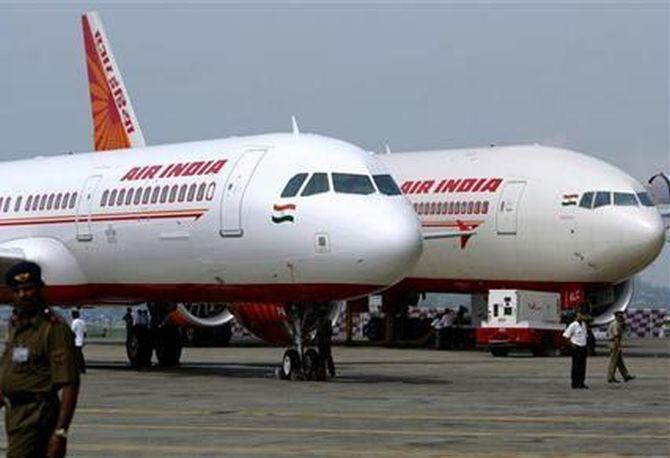 A committee has been set up to rationalise Air India's routes.
Ashwani Lohani, the new chairman & managing director of loss-making state-owned airline Air India, is giving final touches to a multi-pronged revival plan to make the company financially independent in two years.
According to senior airline executives, the plan's thrust will be rationalising loss-making routes and cost control, increasing the seat load factor with greater emphasis on improving revenue per seat, better aircraft availability and a focus on passenger safety and amenities.
A committee has been set up to rationalise Air India's routes.
This five-member committee is expected to give its report within a week, after which the airline management will take a decision on whether some existing routes would be discontinued or new routes adopted.
Only nine of the airline's 370 daily flights were making profits, according to a written reply in the Lok Sabha from Minister of State for Civil Aviation Mahesh Sharma, in November last year.
Of these nine, six were flights in the domestic sector and the rest on international routes.
"The new leadership is serious about carrying out the exercise of route rationalisation.
"Once the report is submitted, the management will take a call on the routes that are to be operated in future and those that don't look viable," said an airline source who did not wish to be named.
Another committee was looking into a host of expenditure issues, to improve the airline's financial performance and utilisation of existing resources, sources said. Expenditure control would be one of the major thrust areas for the new management, the source added.
Over the past few years, Air India has been finding it difficult to sustain, even as the government has been consistently infusing capital into the airline.
For 2014-15, the carrier is expected to report a consolidated net loss of Rs 5,547 crore (Rs 55.47 billion), as the gains have been offset by a lower-than-expected revenue and an increase in engineering and maintenance costs and lease rent.
The aircraft maintenance cost has jumped from Rs 830 crore in 2012-13 to Rs 1,445 crore (Rs 14.45 billion).
Despite financial restructuring, interest costs remained unchanged at Rs 4,000 crore (Rs 40 billion).
"The increase in maintenance cost is due to the fact that the company has a number of old vintage aircraft that require regular maintenance to be in flying condition.
Air India is in the process of inducting new aircraft, though," Sharma had said in another Parliamentary reply in July this year.
As part of the restructuring plan, the previous government had in April 2012 announced it would put in equity of Rs 30,000 crore (Rs 300 billion) in the carrier till 2020-21.
Though operating losses have reduced, the government has been continuously infusing capital into Air India -- Rs 1,200 crore (Rs 12 billion) each in 2010-11 and 2011-12; and Rs 6,000 crore (Rs 60 billion) each in 2012-13 and 2013-14.
In the Union Budget for the current financial year, the government had provided Rs 2,500 crore (Rs 25 billion).
However, in the interim Budget, an additional equity of Rs 800 crore was earmarked.
For 2014-15, it had registered an operational loss of Rs 2,171 crore (Rs 21.71 billion), compared with a loss of Rs 2,123 crore (Rs 21.23 billion) in 2013-14, Rs 3,807 (Rs 38.07 billion) in 2012-13 and Rs 5,140 crore (Rs 51.4 billion) in 2011-12.
The airline expects a minimal operating profit in 2015-16, owing to lower fuel costs.
According to a senior Air India executive, the new management will work towards making the pricing system more efficient, to improve the yields per km and seat occupancy.
The airline's passenger load factor stood at 77.8 per cent in July, compared with 73.5 per cent the previous month -- lower than the carrier's private peers.
For instance, this year, the average load factor stood at around 84 per cent for IndiGo, at 83 per cent for Jet Airways, and 87 per cent for SpiceJet.
Air India's market share consistently dropped earlier in the year -- from 18.7 per cent in January this year to 15.3 per cent in June -- but rose to 16.2 per cent in July.
When contacted, Lohani denied to be interviewed.
He, however, felt the foundations of the airline were still strong.
"Safety was and will remain the highest focus area for the airline. We are extremely sensitive to passenger aspirations and facilitation.
"The foundations of the airline are still very strong," Lohani told Business Standard.
Within a week of his taking charge, an Air India flight (Khajuraho-Delhi sector) had earlier made an emergency landing at the Delhi airport, creating panic among passengers.
Five passengers were hurt during the evacuation process and the airline drew criticism for its ageing fleet and safety issues.

AI LIKELY TO GROUND 125 OVERWEIGHT CABIN CREW MEMBERS
AI likely to ground 125 overweight cabin crew members
Air India is likely to ground around 125 cabin crew, including airhostesses, for their failure to maintain weight requirements as prescribed by the Directorate General of Civil Aviation.
Air India might launch premium economy class
Air India may look at introducing a separate cabin product on its flights — premium economy — to tap the growing demand for this segment of travel in a bid to maximise revenue.
PROFIT-MAKING ROUTES FOR AI INTERNATIONAL
Kochi-Kozhikode-Jeddah
Kozhikode-Sharjah
Kolkata-Yangon
DOMESTIC
Delhi-Leh
Delhi-Kolkata
Leh-Jammu
Delhi-Srinagar
Srinagar-Leh
Delhi-Hyderabad-Vijayawada