Terms reveal that such premature redemption is allowable on dividend reset dates in case there is no agreement on the dividend rate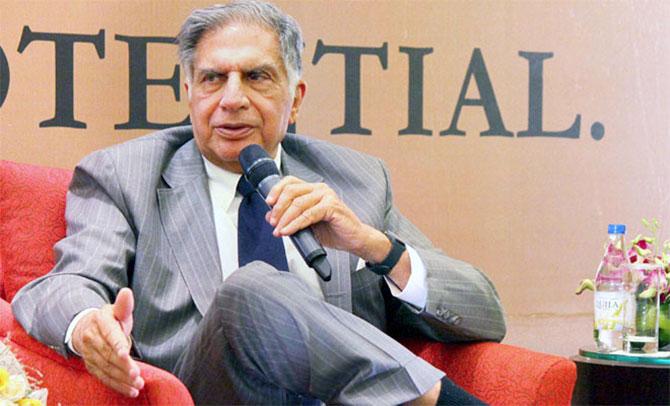 Two trusts controlled by Ratan Tata withdrew significant investments in Tata Sons prematurely in May, suggesting differences may have begun months before Monday's move to replace Cyrus Mistry as chairman.
The Jamsetji Tata Trust and Navajbhai Ratan Tata Trust redeemed their entire holding of preference shares, worth Rs 3,951 crore, about 10 years before their tenure ended.
The terms of these shares reveal such a premature redemption is allowable on dividend reset dates in case there is no agreement on the dividend rate.
These convertible redeemable preference shares (CRPS) had accounted for about 90 per cent of the paid-up share capital of the group holding company, which stood at Rs 4,255 crore at the end of March 2016. Of this, only Rs 40 crore was equity, while the rest came from smaller preference share issues.
The big redemption came a month before a major arbitral award in a dispute with Japanese partner NTT DoCoMo went against Tata Sons.
Though these trusts do not individually hold equity shares, they are part of the two groups of trusts headed by Ratan Tata - Sir Dorabji Tata Trust & Allied Trusts and Sir Ratan Tata Trust & Allied Trusts, respectively. These two groups, between them, control 65.29 per cent equity in Tata Sons. Ratan Tata in his personal capacity owns another 0.83 per cent.
Business Standard culled out these details from the directors' report of Tata Sons filed on October 22, two days before Mistry's removal.
"Pursuant to the requests received from the trusts, the holders of the entire series of 39,515,000 – 8.25 per cent CRPS, the board approved the redemption of the said CRPS and the same were redeemed and paid on May 25, 2016, along with pro rata dividend for the period up to May 25, 2016."
These CRPS of par value of Rs 1,000 each were issued between October 2007 and September 2009 had a tenure of 20 years and a dividend rate of 8.25 per cent per annum. The CRPS did not carry any voting rights.
According to financial statements for the period ended March 2016, Jamsetji Tata Trust held 24.5 million CRPS and Navajbhai Ratan Tata Trust held 15.01 million CRPS. According to tatatrust.org, N A Soonavala, J N Mistry, R Venkataramanan and Amit Chandra were the trustees of Navajbhai Ratan Tata Trust, named after the wife of Sir Ratan Tata, son of group founder Jamsetji.
In Jamsetji Trust, R K Krishnakumar was in place of Mistry, while other three trustees were the same as Navajbhai trust.
In a footnote in the standalone accounts under the head of share capital explained the key terms of the CRPS issued to the trusts: "The company in consultation with preference shareholders, will announce a dividend rate at the end of five years from the date of allotment for each successive five-year period thereafter. These preference shares are redeemable at the end of 20 years or, in whole or part, on dividend reset dates in the event the issuer and the investor do not consent to a mutually agreeable rate."
Under the head "performance", the directors' report took note of the DoCoMo issue and referred to a note in the accounts for details. According to note 28.E under the head contingent liabilities, "The arbitration award dated 22 June 2016 issued by the London Court of International Arbitration upon arbitration initiated by DoCoMo, requires Tata Sons to pay to DoCoMo an amount equivalent to Rs 8,256.82 crore ($1,247.07 million) towards damages against tender of shares, interest, arbitration and legal costs."
The note added that "in terms of contractual agreements, the company is entitled to call upon other shareholders of TTSL to acquire 482.96 million shares and recover an amount equivalent to Rs 3,173 crore ($479.28 million)."
Elsewhere, Tata Sons added that it had sought the Reserve Bank of India's permission to purchase shareholding from DoCoMo at the pre-determined price based on the shareholders agreement, which is subject to Indian law.
"The RBI has advised that the acquisition can only be made at Fair Market Value (FMV) prevailing at the time of the acquisition. The company had conveyed to DoCoMo its willingness to acquire the shares at the FMV. However, DoCoMo reiterated its position that the shares be acquired at Rs 58.045 per share."
Photograph: PTI Photo