Donald Trump said he will never sign any trade agreement that hurts US workers, or diminishes its freedom and independence.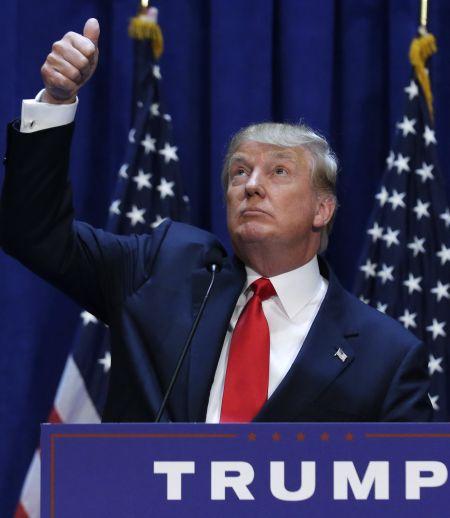 Republican presidential candidate Donald Trump on Thursday vowed to bring back jobs to the US and make it rich again through a "new, fair" trade policy while putting a stop to massive trade deals with many countries and taking actions against China's theft of intellectual property.
"I have a different vision for our workers. It begins with a new, fair trade policy that protects our jobs and stands up to countries that cheat," Trump said while formally accepting the Republican nomination as the presidential candidate.
"It's been a signature message of my campaign from day one, and it will be a signature feature of my presidency from the moment I take the oath of office," he said.
The 70-year-old real estate tycoon said he has made billions of dollars in business making deals - "now I'm going to make our country rich again".
"I am going to turn our bad trade agreements into great ones. America has lost nearly one-third of its manufacturing jobs since 1997, following the enactment of disastrous trade deals supported by Bill (Bill Clinton) and Hillary Clinton.
"It was Bill Clinton who signed NAFTA (North American Free Trade Agreement), one of the worst economic deals ever made by our country," he said, adding this will never happen again.
"I am going to bring our jobs back to Ohio and to America – and I am not going to let companies move to other countries, firing their employees along the way, without consequences," he said, adding his opponent Hillary Clinton, has supported virtually every trade agreement that has been destroying the middle class.
"She supported NAFTA, and she supported China's entrance into the World Trade Organisation – another one of her husband's colossal mistakes.
"She supported the job killing trade deal with South Korea. She has supported the Trans-Pacific Partnership (TPP).
The TPP will not only destroy our manufacturing, but it will make America subject to the rulings of foreign governments," he said.
Trump said he will never sign any trade agreement that hurts US workers, or diminishes its freedom and independence.
"I will make individual deals with individual countries. No longer will we enter into these massive deals, with many countries, that are thousands of pages long – and which no one from our country even reads or understands," he said.
The US, under his presidency, will enforce all trade violations, including through the use of taxes and tariffs, against any country that cheats, Trump said.
"This includes stopping China's outrageous theft of intellectual property, along with their illegal product dumping, and their devastating currency manipulation.
"Our horrible trade agreements with China and many others, will be totally renegotiated. That includes renegotiating NAFTA to get a much better deal for America -and we'll walk away if we don't get the deal that we want. We are going to start building and making things again," he said.
© Copyright 2021 PTI. All rights reserved. Republication or redistribution of PTI content, including by framing or similar means, is expressly prohibited without the prior written consent.