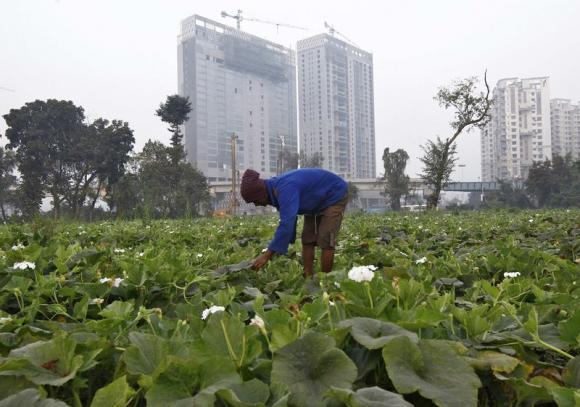 A farmer works in a bottle gourd field in Kolkata. Photograph:Rupak De Chowdhuri/Reuters
For business, the government and the Reserve Bank of India, data revisions that have transformed India's $2.1 trillion economy into one of the world's fastest growing are too good to be true.
Now, the search is on for reliable indicators of underlying activity, vital for Finance Minister Arun Jaitley as he draws up his annual budget and for RBI Governor Raghuram Rajan as he weighs whether to cut interest rates again.
"Let's not get carried away – the ground reality is very different," one senior finance ministry official told Reuters after figures on Monday showed that India's economy outgrew China's in the three months to December.
Based on a new calculation method, the statistics department said the Indian economy grew 7.5 percent year-on-year in the last quarter and is on track to expand 7.4 percent in the year through March 31.
It was quite a turnaround for Asia's third-largest economy, which based on the old calculations was struggling to recover from the longest spell of sub-par growth in a generation.
Yet far from vindicating Prime Minister Narendra Modi's stewardship of the economy, the revised growth numbers are at odds with evidence on the ground. Stalled projects and stretched capacity in the power, infrastructure and housing sectors are having knock-on effects down the supply chain to small- and medium-sized enterprises (SMEs), said Anil Bhardwaj, secretary general of the Federation of Indian Micro and Small & Medium Enterprises. "This is a bit perplexing.
The feedback we are getting on the ground is not as positive. SMEs are not getting the orders," Bhardwaj told Reuters.
"There is an improvement in business sentiment, in the environment, but unfortunately there is no movement on the ground."
Larsen & Toubro (LART.NS), an industrial group regarded as a bellwether for the wider economy, lowered its order book estimates on Monday and said a recovery in its domestic business was at least a year away. "India Inc, while it continues to be aspiring, is still on the wait and watch mode," Chief Financial Officer R. Shankar Raman told reporters.
WEAK REVENUES, WEAK DEMAND
The 2015/16 budget that Jaitley will unveil on Feb. 28 will be based on an expectation that the economy would grow at the roaring pace of 8 percent or more, one source familiar with the matter told Reuters. Yet revenues will lag.
"Everyone is happy that India's GDP growth has picked up, but we are worried over slower growth in tax collections," the source said.
Indirect tax receipts, which include customs and factory gate duties as well as levies on services, have risen by just 6.7 percent so far in this fiscal year against a budget estimate of 26 percent for the full year. A weak tax take also points to fragile consumer demand.
Although a plunge in global oil prices has cooled inflation, that has yet to encourage Indian consumers to buy TVs, cars or appliances. Households are still not confident of any quick turnaround in their fortunes, according to a monthly survey by ZyFin Research.
Weak demand has hobbled New Delhi's efforts to revive sluggish auto sales with tax breaks, leading car makers to scale back sales forecasts.
Govind Shrikhande, managing director at Indian retailer Shoppers Stop, is puzzled by the latest GDP estimates. "Is it a trick or a treat?" he asked.
"I haven't understood how they are calculating it, but we are not seeing it reflected in business as yet." Falling merchandise exports and sluggish non-oil, non-gold imports suggest demand remains weak in domestic and overseas markets.
Exports fell 2.3 percent month-on-month in December, while imports of goods other than oil and gold fell 7.1 percent.
Statisticians defend the jump in their growth estimates, attributing it to better measurements of improved business efficiency that has boosted profits even as sales stagnate.
The statistical fog, meanwhile, makes it unclear how much room Rajan will have to stimulate investment and consumer demand without fuelling inflation after cutting interest rates last month. Financial markets expect Rajan to make three more quarter-point cuts by December in the RBI's main policy rate, now at 7.75 percent.
"The faster pace of growth puts Mr Rajan in an awkward position," UBS economists Edward Teather and Alice Fulwood said in a note, adding that even if the RBI revises up its own GDP estimates there is still room for policy rates to fall.