Travel companies Cox & Kings and Thomas Cook explore initiatives aimed at tapping the niche market of travel packages for kids and the disabled.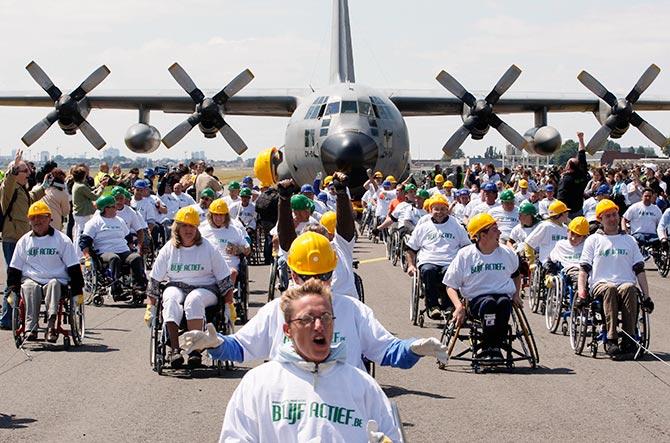 IMAGE: Cox & Kings launched a division, Enable Travel, to cater to inbound tourists with disabilities wanting to travel in India. Photograph representational. Photograph: Sebastien Pirlet/Reuters.
Wheelchair-bound independent filmmaker Rustom Irani has travelled to over a dozen countries in the last 20 years.
But travelling in India makes him anxious. Public facilities here are usually not disabled-friendly, he says.

A Cox & Kings initiative will help people like Irani to plan their holidays. The tour operator earlier this month launched a division, Enable Travel, to cater to tourists with disabilities.

Package tours are the mainstay of tour operators in India. But over the last few years companies have been introducing niche offerings such as women-only tours, senior citizen tours and exclusive packages for communities.

Thomas Cook has introduced theme park holidays that are popular among children.

Debolin Sen, head, Enable Travel, says the focus is on domestic and inbound tours with the US, UK and Australia being key source markets.

According to the UN World Travel Organisation, more than 12 per cent of people from the UK who travel have a disability or a long-term health problem. About 11 per cent of Australian tourists have some form of disability and American adults with disabilities or reduced mobility spend an average of $13.6 billion annually on travel.

"The UK, US and Australia are our biggest source markets and we believe this has huge potential," says Sen.

Enable Travel has several itineraries in popular holiday destinations such as Delhi-Agra-Jaipur and Bengaluru-Mysuru-Coorg. The tour operator plans to provide a range of wheelchair-accessible vans with ramps and safety harnesses, escorts, caregivers and sign language interpreters.

Irani, who is advising Cox & Kings on the initiative, says it is working with hotels for Braille menus and LED lights in rooms that turn on with the chime of a doorbell.

Rajeev Kale, Thomas Cook's president and country head, leisure travel, says the decision to launch theme park tours was taken after a study showed children often had a crucial role in deciding where a family went on vacation. He adds over 300 families have booked for the theme park tours since they were launched earlier last month.

Packages include visits to Sentosa Island and Universal Studios in Singapore and Disneyland in Hong Kong. These tours allow children to spend a longer time at the parks and stay in hotels closer to them, Kale says.

Thomas Cook is marketing theme park tours in Singapore, Malaysia, Hong Kong, Dubai and Abu Dhabi and South Korea.