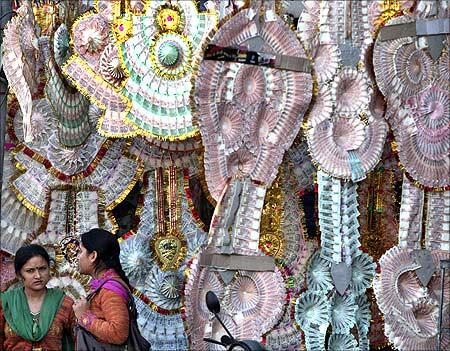 The rupee, which has depreciated about 23 per cent since May, has increased the loss ratios for the travel insurance segment.

Travel insurance premiums are paid in rupees, while the claims are paid in dollars.

Hence, there is a 20-25 per cent rise in the loss ratios for general insurers. In order to offset this loss, insurance companies are preparing to increase the premiums for this segment.

"The sharp depreciation of the rupee has impacted the current business scenario and has lowered demand for overseas travel. If the Indian rupee remains weak and the business scenario persists, insurers will have to increase the cost of travel insurance to deal with the situation," said Rakesh Jain, chief executive officer of Reliance General Insurance.

Travel insurance products are usually purchased for foreign travel. These products cover claims arising out of unforeseen incidents, including sudden medical costs, loss of baggage or passport, among others.

While medical costs incurred abroad are covered in the policy, individuals travelling to foreign countries purely for treatment purposes cannot claim the medical costs under a travel policy.

The premium of a policy worth Rs 2-5 lakh could vary between Rs 2,000 and Rs 10,000,
depending on the product category and the medical conditions it covers.
For senior citizens, the premium is higher due to the increased medical risks associated with old age. According to experts, since premiums are low, a big claim can affect the books.
Sanjay Datta, head (underwriting and claims) at ICICI Lombard General Insurance, said nobody in the industry had anticipated such a sharp fall in the rupee and, hence, could not factor this in while determining premiums.
"In the long-run, the premiums would have to be adjusted if dollar appreciation continues," he added.
If there is any claim on a policy, it is paid in dollars. In May, when the value of the rupee against the dollar was 53.82 and if the claim was $50,000, an insurer had to pay Rs 26.91 lakh. With the rupee at 66.12 versus the dollar, the outgo for the same claim would be Rs 33.06 lakh.
M Ravichandran, president (insurance) at Tata AIG General Insurance, said there had been an increase in loss ratios due to the steep depreciation of the rupee.
"We, as an industry, are looking to work out modalities to adjust travel insurance premium to be in line with the current exchange rate and would seek regulatory approval for the same. This would help in insulating the effect of exchange-rate fluctuation on loss ratios," he said.