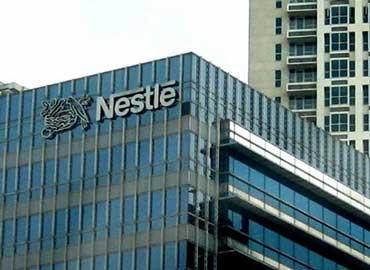 The country's largest food company by revenue will need to initiate quick measures to get back to the growth path, say analysts
The ban and recall of Maggi noodles will not be the only challenge for Nestlé India's Managing Director-designate Suresh Narayanan.
The 55-year-old executive, who takes over on August 1, will have a bigger task of propping up growth rates in the coming quarters.
The country's largest food company by revenue has seen its weakest rate of growth in the last two years, with revenue growth falling to about eight to nine per cent from a long-term average rate of 14-15 per cent.
Nestlé India said in its annual report for 2014 it had to contend with a discretionary consumer slowdown -- volume growth was the lowest in 14 years at 0.6 per cent.
"India is not a very important market for Nestlé, contributing only 1 per cent to the profit of the parent company.
The India business has not gained significantly from the parent in the past few years, as the innovation pipeline is almost dry. Also, there seems to be pressure to deliver short-term profits at the cost of volume growth," a Credit Suisse report dated June 23, 2015, said.
This report also said a large number of Nestlé's global products had no relevance in India.
"Frozen food, water, pet care, ice cream, breakfast cereal, beverages other than instant coffee and cooking aids are some key examples of this.
"The India business needs strong innovation in the dairy, instant noodles and chocolate categories, which has been lacking from the parent.
"The infant nutrition business is regulated in India and many of Nestlé's products like Gerber are not permitted in the country," it added.

Nestlé India derives 46 per cent of its revenue from milk products and nutrition, 29 per cent from prepared dishes and cooking aids, 13 per cent from beverages, and 12 per cent from chocolates.
"Except for prepared dishes, which posted a volume growth of 3.7 per cent in 2014, chocolates, milk products and beverages showed a volume decline of 12.2 per cent, 2.3 per cent and 11 per cent, respectively," Gautam Duggad, vice-president, research (FMCG and retail), Motilal Oswal, had said after analysing Nestle's latest annual report.
Following the recall of Maggi noodles in June, prepared dishes as a category was expected to suffer, with volume growth likely to be negative, analysts tracking the company said. Getting back to the growth path was critical if India had to be of any consequence to Nestle, they added.
Already, Nestlé India is initiating a few measures.
"At Rs 60, Nestle's tetra pack comes at a discount to Amul Gold (Rs 62) and Britannia (Rs 65).
This will help Nestle in gaining market share," Abneesh Roy, associate director, research (institutional equities), Edelweiss, said.
The company is also expected to focus on its pipeline of products following Narayanan's takeover.
He has had a long innings in sales and marketing and is described as a down-to-earth manager.
Narayanan told The Wall Street Journal last week his priority was to rebuild the company's brands "brick-by-brick, consumer-by-consumer and employee-by-employee".