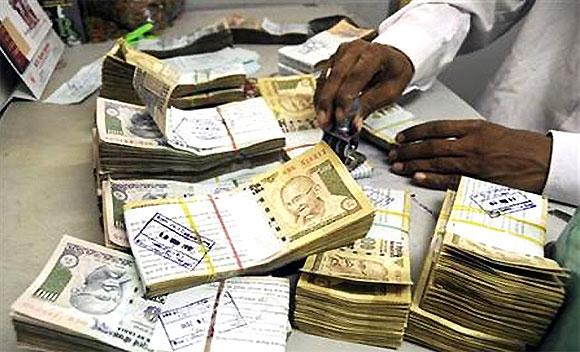 In spite of the high decibel financial inclusion drive being carried out for the past three years, a Crisil study has revealed stark disparities in the spread of banking services, saying the top six cities are home to an astonishing 11 per cent of bank branches.
Four of the 640 districts have only one bank branch each, says a Crisil study, which launched the country's first financial inclusion index 'Inclusix'.
In what can cause further concern, the bottom 50 districts have only 2 per cent of the bank branches, but they saw a 20 per cent improvement in branch efficiency as measured by the number of savings accounts per branch.
"Wide disparities exist across the country and within the states in terms of access to financial services," the report said.
With a score of 62.2 in 2011, the Southern region leads in financial inclusion while the Western region comes in second with 38.2, followed by the Northern region with 37.1, Eastern (28.6) and Northeastern region (28.5), it said.
Crisil Managing Director and Chief Executive Roopa Kudva said the agency has put two years into making of the index and analysed 2 lakh data points from 165 banks, apart from RBI data, while arriving at these final numbers.
The index is aimed at helping policymakers, regulators and bankers to identify priorities to improve financial inclusion, design focused initiatives to push the inclusion agenda and measure the progress made, a Crisil statement said.
At an all-India level, the score stood at a low 40.1 in 2011, but Crisil says this was an improvement from the 35.4 in 2009. There were 624 million saving accounts compared to 160 million loan accounts, it added.
According to the Reserve Bank, there has been an addition of 7,467 rural branches in three years, taking the total to 40,845 by the end of FY13, while 1,87,167 business correspondents (who take banking services to uncovered areas) have been added in the same period, taking their total to over 2.20 lakh.
Many sectoral watchers have expressed concern about the lack of activity in bank accounts, saying the real fruits of the inclusion drive will be useful only when there are transactions from the accounts, rather than merely opening the accounts.
"The opening of bank accounts is only the first stage and the focus now is not just on improving access, but also on better use of the financial infrastructure," RBI Deputy Governor K C Chakrabarty had said at a seminar recently.
Recent government initiatives, especially the direct cash transfer programme wherein the subsidies and government payments are credited directly to the beneficiary accounts, are expected to give tailwind to the financial inclusion drive.