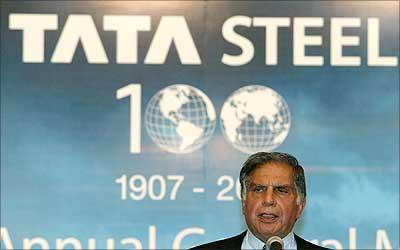 The idea is to create a start-up-like activity with a small business unit.
Tata Steel is inculcating the spirit of 'start-up' with project Innovent, a programme aimed at developing business concepts that can be taken up for scale-up.
The idea is to create a start-up-like activity with a small business unit.
The funding is in tens of crores in the initial period but would blossom into a bigger business, Tata Steel's vice-president (sales & marketing) Peeyush Gupta explained.
"In a large company, a project team works on improvement of a business process, which is what we used to do typically, or find cost improvement programmes. These will be revenue-increase programmes by getting into services and solutions. Currently, six or seven ideas are being worked on and each of these would be revenue streams in itself," he said.
The way it works is, multiple project teams are created. The closest equivalent, Gupta explains, is the Shark Tank Contest, where participants pitch ideas before venture capital firms. Except here, the teams present ideas before the Tata Steel management.
"Some are working with external parts of the house, some are working with large customers and some with individual house builders. The idea is to understand the requirements of customers and find solutions and services," Gupta said.
The first commercial success was Pravesh, wood finished steel doors. "Tata Steel makes only one of the items that goes into wood finished steel doors and after that, we contracted it to another company to make wood finished steel doors. So, it's a completely new product."
Once the proof of the concept is established, it goes back to Tata Steel's sales and marketing department. Some members, who led the pilot, are now implementing it as part of the sales and marketing department.
So, it gives the security of a large organisation without its trappings.
"Suppose the idea doesn't work, nothing adverse happens to the person's career; there is no risk. The initiative could be a career-changing opportunity, but if it doesn't work, the person can just do something else. Some in the Pravesh team have gone on to work with the sales and marketing department to implement the idea. With start-ups, it's a huge issue because so many have failed. Only a few have made a name, not money," Gupta noted.
The teams are working on business-to-business and rural space, and on enhancing steel usage in the country. The funding is generally on an annual or quarterly basis.
"Thirty of Tata Steel's managers had come to our premises (in Bengaluru) to see what start-ups exist for digital challenges.
"The best implementation of digitisation will happen in manufacturing rather than anywhere else," said K S Viswanathan, vice-president (industry initiatives) at Nasscom (National Association of Software and Services Companies).
Digitisation is an area Tata Steel has been working on anyway. For instance, to facilitate digital payments at dealers' end and promotion of various modes of cashless transactions among consumers and channels, in the wake of demonetisation, Tata Steel has launched a digital initiative called PayFe.
As part of this initiative, Tata Steel is targeting to educate the entire channel on digital payments and cover around 10,000 dealers under point-of-sale installations.
Image: A file photograph of Ratan Tata, chairman of Tata Group, at the 100th annual general meeting of group subsidiary Tata Steel in Mumbai. Photograph: Sajjad Hussain/AFP/Getty Images.