Of these, about 100 projects are likely to be completed by December 2018.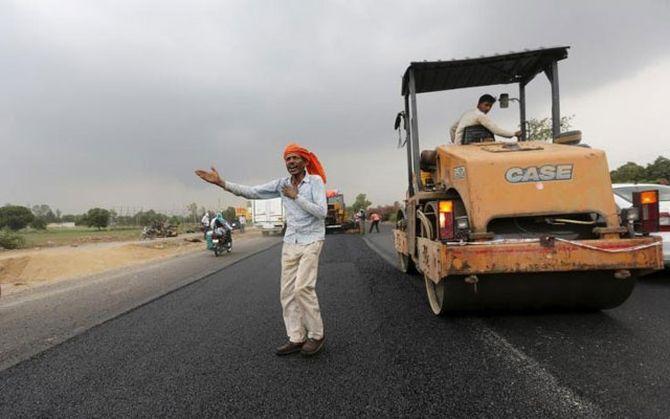 The government has decided to reduce time frame by three months of 300 projects scheduled for completion in June 2019, and now those are likely to be completed by March next year, Union Minister Nitin Gadkari said on Thursday.
The move, which comes at a time when less than a year has been left for 2019 Lok Sabha elections, Gadkari said is aimed at fast-tracking schemes to deliver world-class infrastructure to people with no "political interest".
He said the sole intention of the government was to work on a "mission mode" to bolster development.
"All projects which were scheduled to be completed by June 2019, will be completed before March 2019 ... We have given this target to everyone," the road transport and highways minister said.
Gadkari, who was addressing the media here following a two-day review of over 700 ongoing National Highways projects in 20 states, said the ministry has identified about 300 projects for completion by March 2019.
Of these, about 100 projects are likely to be completed by December 2018.
To a query whether shortening the deadline was to derive political mileage, the minister said, "We do not build roads motivated by political interest", and added "whatever is to happen will happen in the elections but this country should develop whether there is a government of BJP or Congress or any other party".
Quipping "Jo vote dega uska bhi bhala hoga jo nahi dega uska bhi bhala hoga (those who cast vote (in favour of BJP) will benefit and those who do not cast will also benefit", the minister emphasised that roads were build for all irrespective of caste, creed, religion or party.
He added that the government was building roads everywhere whether Rae Bareli or Amethi.
He questioned whether the recently inaugurated two expressways - Eastern Peripheral Expressway and the first-leg of the Delhi-Meerut Expressway were meant only for Hindus or Muslims, and emphasised that all were using these.
Gadkari also said highways building under Bharatmala will be expedited.
Cautioning cement companies against cartelisation, the minister said this will not be tolerated.
At the same time, he said the cost of sand has come at par with cement cost and added, "we will allow bitumenous road where the cost is 30 per cent less than that of cement road".
Regretting that delayed land acquisition, lack of timely clearances and other factors led to delays in project he said, steps are on to address these and the government is expected to surpass the target of 40 km a day road building by March 2019.
The per day road building comes to about 27 km at present.
While lauding Uttar Pradesh for excellent works as far as highway building is concerned, the minister said the state witnessed projects worth Rs 2 lakh crore and added that perforamnce of Tamil Nadu, Maharashtra, Gujarat, Andhra Pradesh were also good.
However, Bihar and Odisha, he said lagged much behind and added that meetings will be held with chief secretaries and chief ministers of these states to expedite projects.
Gadkari who reviewed 427 projects of NHAI and 311 projects of NHIDCL and the Road Transport Ministry said the construction target of NHAI for the year 2018-19 has been revised upwards from 5,058 km to 6,000 km.
The minister said apart from land acquisition and forest clearances, faulty DPRs (detailed project reports) have been found to be another reason for delay.
He warned that consultants making faulty DPRs will be penalised and black listed. He also stressed upon a performance audit of concessionaires.
"Government will hold back 30 per cent payment of consultants preparing faulty DPRs for highway projects," the minister said.
"Good performers will be rewarded with incentives and poor performers may be black listed," Gadkari said, adding that he will hold a meeting in Mumbai with the heads of major banks to sort out issues related to flow of funds.
Besides, the minister also announced that a meeting will be held within a fortnight to sort out air and water pollution issues.
Photograph: Adnan Abidi/Reuters
© Copyright 2022 PTI. All rights reserved. Republication or redistribution of PTI content, including by framing or similar means, is expressly prohibited without the prior written consent.