Prime Minister Narendra Modi is likely to urge Tim Cook to begin manufacturing its prized iPhones in India.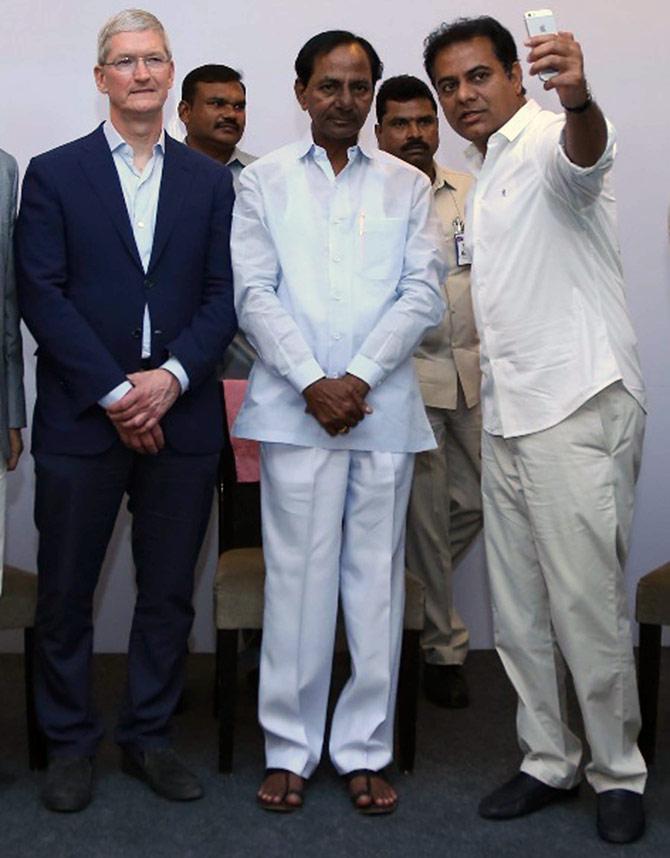 Image: Tim Cook bets big on India. Photograph: Snaps India
In the 1970s, Steve Jobs came to India as a teenager in search of enlightenment, went back to the US, and started something which went on to become the most valuable company in the world - Apple.
More than 40 years later when his successor kicked off his maiden visit to the country, he, too, decided to take a spiritual route.

Apple CEO Tim Cook, who reached Mumbai from China in his private jet late on Tuesday night, chose the wee hours of Wednesday to visit the famous Siddhivinayak temple with Apple India head Sanjay Kaul. There, he ran into Anant Ambani, son of Reliance Industries chairman Mukesh Ambani.
Later in the day, Cook is learnt to have met with Tata Group Chairman Cyrus Mistry, Vodafone India Managing Director Sunil Sood and HDFC Limited Chairman Deepak Parekh.

This is seen as a strategic move for the company to penetrate deeper into India's growing smartphone market, by piggybacking on telecos' distribution networks.
Even though Cook missed Mukesh Ambani, who is on a business trip to the US, he was invited for lunch at Antillia, the latter's billion-dollar mansion in south Mumbai, where he was joined by top Reliance Industries Limited executives, including Manoj Modi and Sanjay Mashruwala.
Globally, especially in the US, its key market, Apple's strategy has been to work with the telecom service providers such as Verizon, Sprint and AT&T that bundle its phones along with their services at subsidised prices to the customers.

While in India, it's unlikely that Apple will take the subsidy route; the company is mostly looking at the reach of these telcos that service around a billion people. These telcos will prove to be strategic partners for Apple once the rollout of 4G/LTE networks is completed in India.
Cook has said that 4G will be a real game changer in India because the value of iPhones can be unlocked as customers will be able to do a lot more with high-speed connectivity on their devices.

Mukesh Ambani's Reliance Jio Infocomm is all set to be the largest 4G network in the country, investing $17 billion on setting up the infrastructure for the purpose.
In a move that will help Apple provide a better experience to its users, the company on Wednesday announced setting up of a design and development accelerator for iOS apps, in Bengaluru.

Unlike the US and some other matured markets, Apple does not have enough India-specific apps in its iOS store as the number of iPhone users in the country is still minuscule compared to Android users.
"India is home to one of the most vibrant and entrepreneurial iOS development communities in the world," said Cook. "With the opening of this new facility in Bengaluru, we're giving developers access to tools that will help them create innovative apps for customers around the world."
In the evening, Cook also met with N Chandrasekaran, chief executive officer and managing director of Tata Consultancy Services, India's largest information technology (IT) services company.

The meeting lasted for around two hours, informed sources told Businesss Standard. Among the Indian IT services players, Infosys is the preferred vendor for Apple.
The meetings with these business leaders mostly happened at Taj Mahal Palace where Cook, along with his visiting team, is camping.

Stepping out, Cook also visited the ICICI Bank headquarters in the Bandra Kurla Complex business district and met its brass, including bank's managing director and CEO Chanda Kochhar and executive directors. The meeting is said to have lasted for over an hour.
Cook also got a taste of Bollywood in the evening when he met filmmaker Mahesh Bhatt and actor Emraan Hashmi at the Mehboob Studio, before attending a private dinner hosted by Shah Rukh Khan and attended by a galaxy of stars.
On Thursday, Cook would start the second leg of his four-day tour visiting Telangana, where he has set up meetings with Chief Minister K Chandrashekar Rao and IT Minister K T Rama Rao.

Apple has already announced it would set up its maps development centre in Hyderabad, home to India's National Remote Sensing Centre.

The visit to the centre is also going to be a hush-hush affair even though state government officials wanted to invite media to showcase the achievements of the state in attracting large global companies like Apple.
In the evening, Cook will leave for New Delhi where he is scheduled to meet Prime Minister Narendra Modi on Saturday.

The two could discuss issues ranging from Apple's rejected proposal to import and sell refurbished iPhones in India to setting up single-brand retail stores in the country.

Modi is likely to urge the business leader to make Apple begin manufacturing its prized iPhones here.
He is also expected to have a dinner meeting with the US Ambassador to India, Richard Verma, later in the evening.
FINALLY, TIM COOK'S HERE - AND THERE'S MORE ON HIS PLATE
Reaches Mumbai at 11.45 pm Tuesday in a private jet
Sets up camp in Taj Mahal Palace
Begins day paying a visit to Siddhivinayak temple
Chance meeting with Anant Ambani, son of Reliance Industries chairman at the temple
Meets several business leaders at hotel, including Tata Group chairman Cyrus Mistry, Vodafone India CEO Sunil Sood
Scheduled to reach Hyderabad on Thursday; to visit new map development centre
Will meet Prime Minister Narendra Modi on Saturday
Also expected to have a dinner meeting with US Ambassador to India, Richard Verma