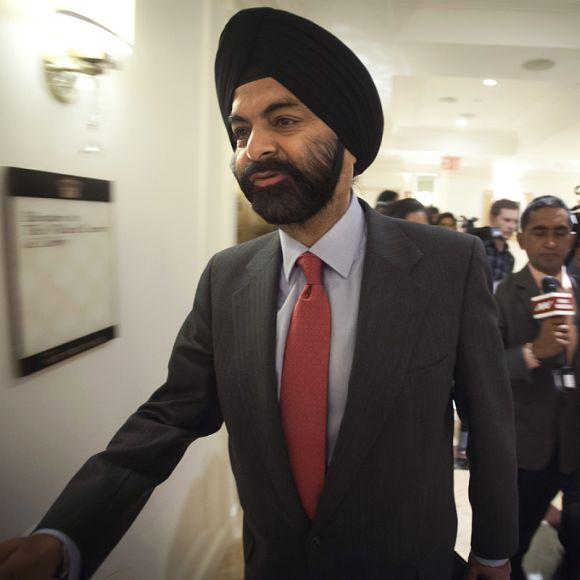 Image: President and CEO of Mastercard Ajay Banga leaves after meeting India's Prime Minister Narendra Modi.
Photograph: Carlo Allegri/Reuters
Three leading India-born CEOs, including Microsoft's Satya Nadella, who took their companies "full speed ahead" have featured in Fortune's Businessperson of the Year list topped by Google CEO Larry Page.
Mastercard CEO Ajay Banga, Microsoft CEO Satya Nadella and Harman International Chairman Dinesh Paliwal have been named among 50 global corporate heads by Fortune Magazine in its annual 'Businessperson of the Year' compilation.
Banga is ranked 28th on the list, Nadella 38th and Paliwal 42nd.
These corporate heads "kept a steady hand on the tiller - and took their companies full speed ahead" in a year of "tumult from volatile markets to viral outbreaks to a striking return to Cold War politics."
Page, who topped the list, has "shown himself to be the world's most daring CEO" by not only building the Internet's "most profitable franchise" but also revolutionising transportation and "upending medicine."
Fortune said Page has built his factory of the future while keeping Google's multi-billion dollar business humming and positioning the company for a dominant role in the era of wearables and Internet-connected cars and homes.
"In a world where only the paranoid survive, Page has redefined paranoia into unbounded ambition," Fortune said.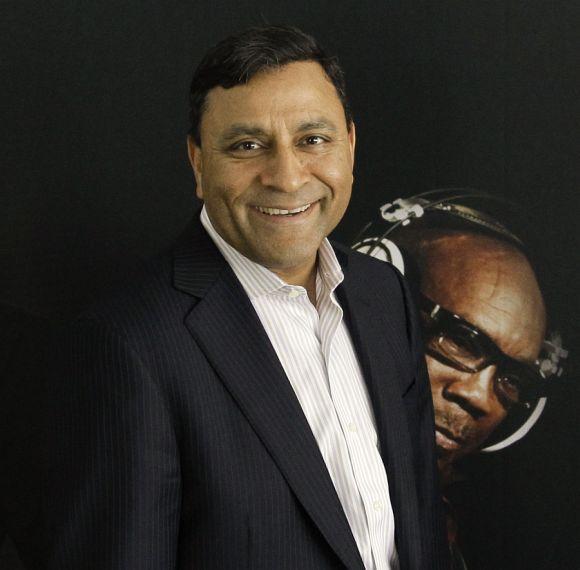 Image: Chairman of Harman International Industries Dinesh Paliwal poses during a Reuters interview.
Photograph: Tobias Schwarz/Reuters
On Banga, Fortune said: "Sometimes it's about being in the right place at the right time."
For MasterCard, that very well could come in the form of Apple Pay, which may finally break the barrier between consumers and mobile payment, the magazine said.
"MasterCard and Banga could benefit from increased transactions using mobile phones. But the CEO isn't letting MasterCard rest on its laurels, as the company continues its efforts to expand in China and other parts of Asia," it said.
MasterCard's presence in the region grew by 15pc through three quarters of 2014, compared to 2013, at a time when Asian economies have begun to show some signs of weakness, it said.
Fortune said Nadella introduced a "humbler, leaner, and hipper" Microsoft in his first year as CEO.
"Nadella, who took the helm from the notoriously outspoken Steve Ballmer last February, has initiated a complete strategic overhaul at the software giant.
"His 'cloud-first' approach, embodied in Microsoft's own cloud platform Azure, is well on its way to become a USD 4-billion-a-year player, big enough to take market leaders Salesforce.com and Amazon head on," Fortune added.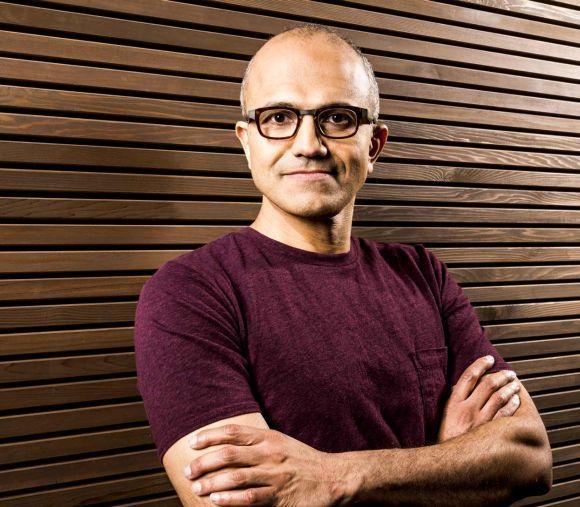 Image: Microsoft CEO Satya Nadella.
Photograph: Kind Courtesy, Microsoft
Paliwal has been leading Harman since 2007, and has overseen the development of Clari-Fi, a technology that restores the nuances that get lost when music is digitally compressed.
"Strong demand from clients like Ferrari, BMW, Audi, and Chrysler has turned Harman into a Wall Street darling, beating analysts' earnings estimates seven quarters in a row.
"Business is so good that Paliwal recently announced a USD 500-million share buy-back over the next three years," Fortune said.
The list also includes Apple CEO Tim Cook on the second spot whose recent coming out made him the first openly gay CEO in the Fortune 500.
"Replacing a legend is an exercise filled with peril. Yet three years into his stewardship of Steve Jobs' company, it is becoming increasingly clear that Tim Cook knows what he is doing as CEO of Apple," Fortune said of Cook who replaced Apple co-founder Steve Jobs after he died in 2011.
With the company's stock at an all-time high, booming sales of larger iPhones and renewed enthusiasm for Mac computers, Fortune said the coming Apple Watch and the already released Apple Pay service show that "Apple remains an innovator - even under a CEO known more for operational prowess than product savvy."
Others on the list are Walt Disney CEO Bob Iger (6), Alibaba Founder Jack Ma (10), Facebook Founder Mark Zuckerberg (13), Tesla CEO and last year's business person of the year Elon Musk (18), Amazon CEO Jeff Bezos (25), Berkshire Hathaway Chairman and CEO Warren Buffett (34) and Starbucks CEO Howard Schultz (47).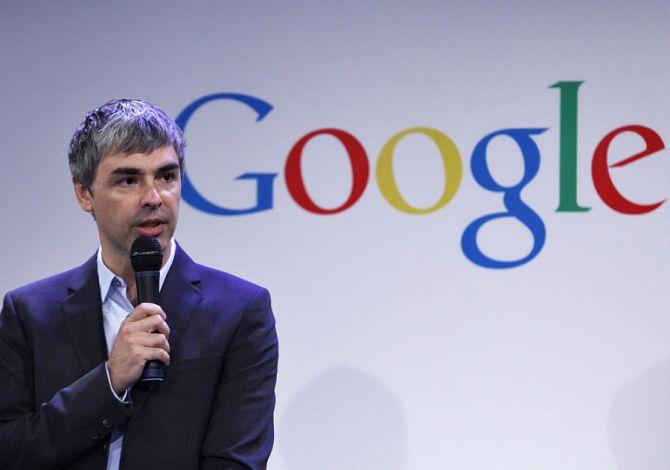 Image: The list is topped by Google CEO Larry Page.
Photograph: Eduardo Munoz/Reuters