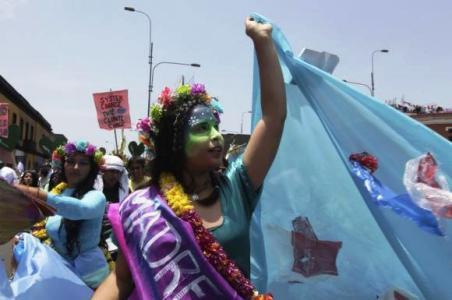 Thousands of activists on Thursday marched through the streets of the Peruvian capital, demanding swift action on climate change and asking policymakers to make a 100 per cent shift to renewable energy by the year 2050.
Organisers claimed that nearly 15,000 people participated in the march in the city which is hosting the crucial UN Climate Change Summit.
The protesters marched through the streets, raising slogans 'Keep the oil in the soil,' 'Protect your food' and 'Change the system, not the climate.'
Closely resembling last year's People's Climate March in the US when nearly 400,000 people poured on the streets of Manhattan ahead of the UN Climate summit, the marchers included peasant farmers, trade unionists, students and various indigenous tribes of the Amazon.
Many native groups in the Peruvian Amazon and Andes mountains are directly affected by the illegal logging, mining and oil and gas exploitative practises polluting their land and threatening livelihoods.
The protesters also demanded an end to activist persecution by the Peruvian government and others as several indigenous environmental activists have been killed in recent past for protesting illegal logging and mining.
Many of the activists carried photos of murdered environmental activists.
Also, 100 children participated in a ceremony with UN Secretary General Ban Ki-moon, Peruvian President Ollanta Humala and Environment Minister Manuel Pulgar Vidal presenting them with a petition signed by 2.2 million people calling for a shift towards renewable energy.
Image: Environmental activists march during the 'People's Climate March' in down town Lima, December 10, 2014. Photograph: Guadalupe Pardo/Reuters