The rupee's fall against the dollar is bad news for companies which have increased their exposure to foreign currency loans in recent years.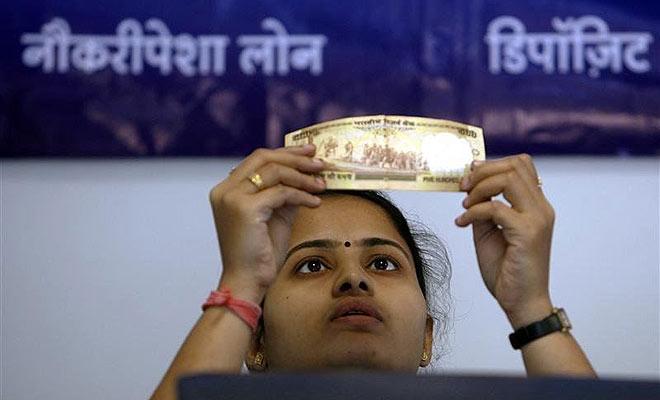 The rupee's fall against the dollar is bad news for companies which have increased their exposure to foreign currency loans in recent years.
This comes at a time when sales are not picking up and corporate earnings are stagnant, say finance heads (CFOs).
They add that companies without a natural hedge of foreign exchange earnings will be vulnerable.
As on end-March, the forex exposure of the top 100 companies was 50-60 per cent of their total debt.
Their percentage of foreign currency loans was 16.5 per cent. CFOs say every per cent fall in the rupee's value is giving them tension.
An India Ratings analysis of the top 500 borrowers shows every one per cent fall in the rupee's value would shave 0.19 per cent off their combined earnings.
The analysis warns that among the 500 top listed borrowers, 234 would be negatively impacted by the rupee's fall.
And, this year since January, show Bloomberg statistics, the rupee has depreciated 5.8 per cent.
From April 1, when the financial year began, it is down 6.7 per cent.
According to Rakesh Valecha, senior director, India Ratings, the rupee fall will particularly hurt fertiliser and consumer durables' companies, both highly import dependent and with low forex earnings.
The analysis was done when the rupee was 66.67 to a dollar in July, he said on Friday.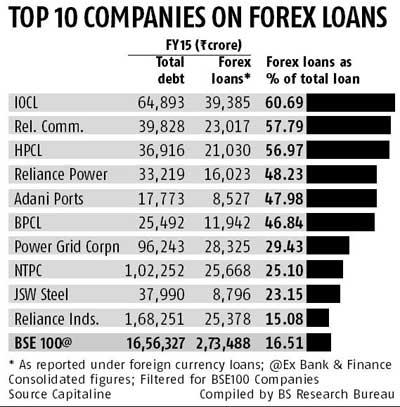 One in two of the largest 500 corporate borrowers is a net importer, making their operating profit vulnerable to rupee depreciation, the analysis said.
Falling rupee bad news for Indian cos Two sets of companies have forex exposure. The first is those with a net outflow of forex.
The other is of those with large forex debt, through the external commercial borrowing route.
The latter is probably more serious for companies which have tended to borrow more from markets abroad, on account of lower interest rates.
Most of these have not hedged their exposures, either net outflows or debt service commitments, given that the forex forwards are 6.5-7 per cent.
This will put pressure on their profit and loss accounts, as they will have to take a hit on account of the rupee depreciation, say experts.
"A lot will depend on how long the rupee continues to fall. Today's movement can be a reaction more to the European Central Bank move and, going forward, the (US) Fed action.
Our other external fundamentals are quite stable otherwise, with the exception of FII (foreign institutional investors) flows which might continue to be negative for some more time," said D R Dogra, managing director, CARE Ratings.
Adding: "If the rupee does revert towards 66 a dollar, there would be relief for corporates. Any further depreciation will certainly be deleterious for them."
In this backdrop, experts say a company with large forex exposure should immediately take cover if not having any forex earnings.
"The dollar is gaining strength against most currencies. A CFO must have some risk management system in place for as much of his forex loans -- I would recommend at around 75 per cent. At the same time, on the forex receivables, I would keep the book open," said Prabal Banerjee, president, finance & strategy, Bajaj Group.