Taizo Son, SoftBank founder Masayoshi Son's youngest brother, is also planning to enter India. Alnoor Peermohamed and Raghu Krishnan find out more about his plans.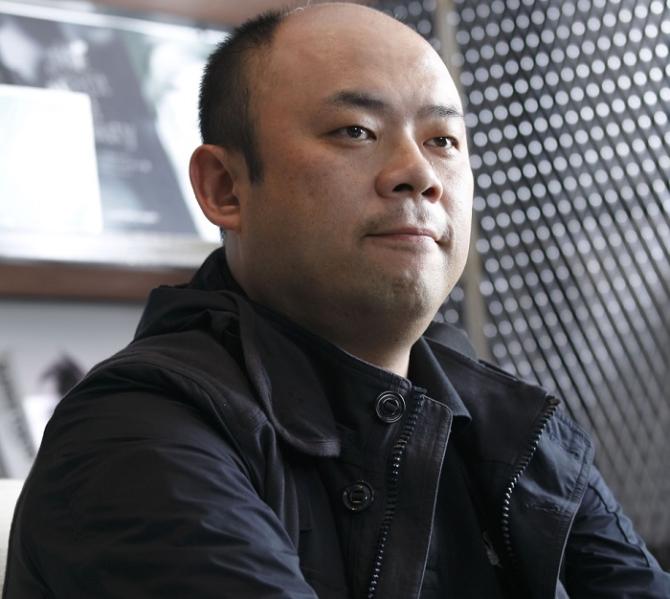 The elder Son, SoftBank's founder Masayoshi Son, has become a force to reckon with in the e-commerce space as the largest backer of leading internet firms Flipkart, Ola, Paytm, and OYO Rooms.
The younger Son, Taizo Son (pictured above), however, wants to leave his mark in agriculture.
Photograph: Courtesy Taizo Son/LinkedIn.
Few people are as influential in India's burgeoning e-commerce space as SoftBank founder Masayoshi Son. Now, his youngest brother, Taizo Son, is also planning to enter the country.
The elder Son has become a force to reckon with in the glitzy e-commerce space as the largest backer of leading internet firms Flipkart, Ola, Paytm, and OYO Rooms.
The younger Son, however, wants to leave his mark in agriculture: He wants to use technology to empower entrepreneurs and solve basic issues in growing and transporting food.
"Previously, innovations were only for a smartphone screen or a browser on a computer. But, thanks to IoT (internet of things), everything will be connected. Food is important for everybody; that's why I have chosen it," said Taizo Son.
For him, Masayoshi or "Masa", who is 15 years older, is more a parental figure than a role model.
Instead, Taizo Son thinks of Jerry Yang, the co-founder of Yahoo!, as his icon.
While still a student at Tokyo University, Taizo Son had reached out to Yang, and eventually launched Yahoo! in Japan.
After building the search giant's unit in his country, the serial entrepreneur went on to co-found several start-ups.
Taizo Son's latest venture is Gastrotrope, which he has started in partnership with GSF Accelerator in India. It aims to infuse technology in the agriculture sector.
Gastrotrope, he said, would be a venture fund.
Given how nascent the agriculture and food tech sectors are in the country, some of the technology -- devices costing less than $1 to beam soil and water data to the cloud -- does not exist. Taizo Son wants to work with start-ups, the government, farmers, and entrepreneurs to create an ecosystem for such technology.
Merely adapting technology from Japan and the West would not be of great help, he said, adding technology developed in India could be taken to the world.
"Of course, I will bring some new ideas from the world and we will come up with some very unique innovations for food supply chains. On the other hand, we will find entrepreneurs who are making innovations in this area and help them grow faster and become bigger and ultimately expand to the rest of the world," said Taizo Son.
When it comes to challenges such as dealing with entrepreneurs who speak local languages and having to interact with them, Taizo Son said technology could help with that too.
GSF is the local partner to build the start-up ecosystem; Taizo Son is also depending on the expertise of Atsushi Taira, chief growth officer of Mistletoe.
Taira has previously headed SoftBank's joint venture with Bharti in India. Mistletoe is a hub for start-ups Taizo Son founded in 2013.
"India needs to be smarter, to learn from the developed countries' failures and not copy them. Too much use of fertilisers and pesticides can damage the environment. Indians have the responsibility to make agriculture healthier and better than other countries," said Taira.
The ultimate aim of Gastrotrope would be to nurture start-ups in the agriculture and food space to a level where traditional venture capitalists (VCs) will be able to come in and help them scale. Taizo Son said, unlike a VC, the money he will deploy will be his own, allowing him to stay invested through the long gestation period during which these start-ups will research and develop new technologies.