'This is not just Make in India; this is much more than that. Right from design to delivery, everything was done in India.'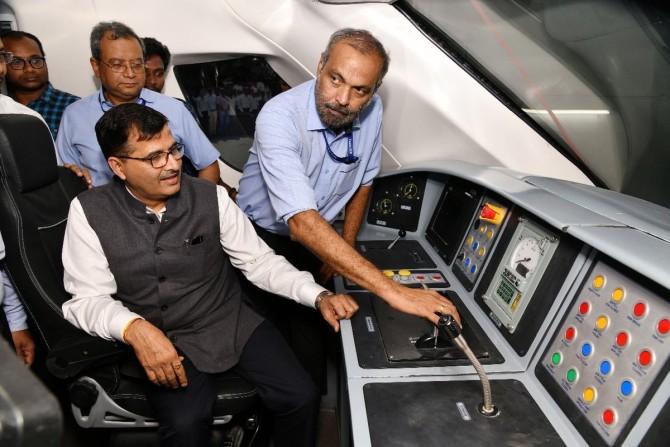 There were many sceptics in India when the Integral Coach Factory started building an engineless fast train. Nobody believed that India could build a world class train on its own.
In December 2018, Train 18, India's fastest engine-less train was flagged off from Chennai and now, the train, renamed the Vande Bharat Express, has started operating between New Delhi and Varanasi.
The man behind Train 18 is Sudhanshu Mani, then the general manager at ICF. He retired in December 2018 soon after the train started running.
"Here in India, we are so devoid of success stories that when we have a success story, we are so dismissive of it," Sudhanshu Mani tells Rediff.com's Shobha Warrier, explaining how the idea was conceived and how it materialised.
A few days ago you tweeted your mobile number asking 'all the doubting Thomases and trollers' to call you if they had any doubts about how Train 18 was fully made in India. Were you hurt or angry by any adverse comment that made you tweet that way?
I was not hurt at all. I was not angry also. We worked hard at ICF with excellent team spirit and we came out with a world class product in a very short time.
We know what we have done. My second in command at ICF and the commissioner of railway safety among many others were on board when the train touched more than 180 km/hr for a long stretch.
Now, somebody made a video and forwarded it to many people without knowing what it was. That doesn't change what we have done or diminish the achievements of ICF.
After seeing that particular video, I was not hurt, but wanted to clarify what we have done if anyone had any doubts.
Just because there is a doctored video does not diminish the fact that the train did not achieve what it was meant to.
I wanted to tell all those people who made fun of our achievements through a doctored video that, 'Call me, I will you what we have achieved'.
On the first day of the train's commercial run, it developed a technical snag and there were many people ready to deride the achievement. For example, businesswoman Kiran Mazumdar Shaw tweeted that it showed the lack of engineering and the technical abilities of those at ICF. How do you respond?
I will not respond individually to anyone. Usually, when you develop a train of this magnitude and importance, we have a rigorous field trial run on the surface for a month or two. This could not be done as there was so much hype around the train and the country was waiting for it.
I am not saying there is something wrong, but usually there is a field trial before it commences commercial services. So, in the first two months, you may expect a few glitches which the team at ICF will address.
In one to one-and-a-half months, the train will become perfect.
Here in India, we are so devoid of success stories that when we have a success story, we are so dismissive of it. I am not saying all are like this, but there are some. Their reaction does not matter.
ICF will address all the problems in the first month or two strongly. After that, I don't think there will be any issue.
One problem I see is that the train is designed for a fenced track so that cattle do not come to the track.
If you do not have a fenced track, you keep a guard in front, but we didn't want to have a guard in front and spoil its look and the aerodynamics performance of the loco. So, we decided not to have a guard in front.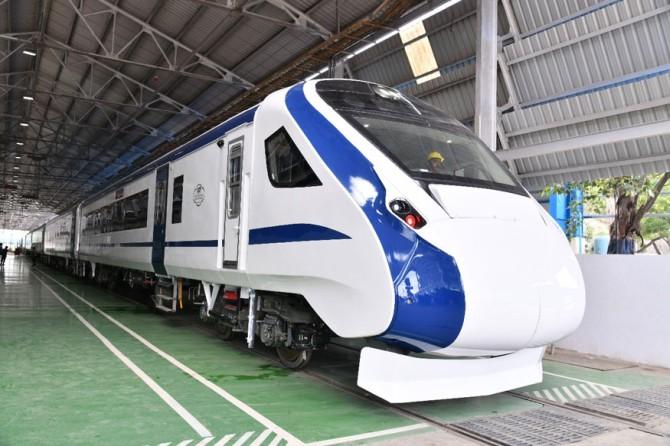 You had said that in 1981, after you joined the Indian Railways, you had this desire to make an engine-less train in India like the ones you saw in other countries...
It was in the early '90s that I felt that the trend all over the world was to go for engine-less trains. But there were various issues including departmental rivalries which prevented it from happening.
When I became the GM of ICF, I understood the capability and the innovative spirit of the staff of ICF.
Then I decided that we were going to do it, and do it entirely on our own without any transfer of technology from any foreign company.
That was the spirit with which the staff of the Integral Coach Factory worked and we delivered the product.
You said you had this idea in the '90s itself, but you could go ahead only in 2016. Did you try to do it earlier too?
Let's say, yes, I did.
I knew it was the trend the world over and we could not stop it, maybe we could delay it. It was bound to happen.
So, as soon as I was in a position to use my power to do it, I did it.
When I became the GM in August 2016, I took 2, 3 months to determine what our ability was and when I found that we were good to do it on our own, I told the staff that we would do it.
Getting the sanction of the ministry was my job and through the kindness of the then chairman of the Railway Board, Mr (A K) Mittal, we got the sanction. And with the help of the staff, we achieved it.
You wanted it to be fully made in India. How was it building it from scratch?
The first thing is the concept or the design. We hired three consultants when we realised that there were areas we were not capable of.
One consultant was for car body processes and supervision, the second was for the design of the 180 km/hr capable bogey and the third was for interior design. They worked with our team at ICF.
The plan was that our people would design under their guidance so that the design would become our intellectual property rather than we enter into a contract with somebody else.
Did you build everything at ICF itself or did you buy some parts from other places also?
We were sure that all the components would be made either by ICF or industries in India.
How did you manage to build the train in a short span of less than two years?
Yes, we built the entire train in 18 months.
The sanction came in April 2017. Everyone in the team told me, 'You are giving us the leadership now, but you will retire in December 2018. Will the continuity be maintained after you leave?'
I told them we were Indians and we worked hard. We would build the train before I retired. We had only 20 months to finish the work.
So, everyone worked hard including industry and the consultants. And in 18 months, the train was ready to start moving.
Which is a record time!
Yes, the world over, for a new train to be developed from the time you get the letter of acceptance to the prototype to be delivered, it takes 33, 36 months. But we could do it in 18 months. That was because of the excitement everyone had at ICF had.
How challenging was the entire process of building a high speed train in India?
It was, of course, challenging both in respect to designing and delivering. That's because of the timeline we had imposed on ourselves. There was a daily challenge as we had so many groups.
In fact, apart from the chairman, most people at the Railway Board were sceptical. Many were in favour of import as they felt it could not be done in India.
We had lots of challenges all along, but the team I had had the confidence.
I was very fortunate to have a very good team, particularly the design team. We had good industry support too.
Which was the most challenging part on the entire journey?
The bogey which can carry a train at 180km/hr had never been designed in India. We were not fools, that's why we got consultants to design the bogey.
Once the design was done, it was all manufactured in India.
This is the model we should follow because this is not just Make in India; this is much more than that.
Right from design to delivery, everything was done in India.
All the interiors were done by a company in Chennai.
The entire car body was done in ICF itself with some sourcing of components from companies in Chennai and Hyderabad.
The propulsion system was from a company in Hyderabad.
Assembly and a lot of manufacturing was done at ICF itself.
Only some components which could not be manufactured in India like the seats, the contactless door, the plug doors and the brake system, were imported.
The design, conceptualisation and the intellectual property is with India, with ICF.
The train was to run at 180km/hr. were you sceptical about whether our tracks would be able to handle it?
No. We knew about our tracks. The need of the hour is for India to have more and more 160 km/hr tracks.
We have delivered a product for the future. Track upgradation needs a lot of money and time. But the product is ready for tomorrow.
In fact, this train is good enough for 200 km/hr with some changes. Tomorrow, if India decides to make 200 km/hr tracks, the product is ready here in India itself. We need not import.
In space technology, we are fourth in the world, but why is it that we are far, far, behind in our railways and trains from the rest of the world?
That's a large question, but the message that has gone with the development of this product is that there is a lot that can be done in India and we are capable.
It is only a matter of removing our doubts and going for it.
Out of 10 things we try, seven may succeed and three may not but that should not prevent us from trying.
The message I want to send is that it can be done in this country and we should exploit this talent and excitement that we have in our country.
India is a leader in technology services. Now that you have built a world class product in India, do you think we can be a force in manufacturing too in which we lag behind?
That's what I am saying. There is a lot we can do in manufacturing. In fact, not only manufacturing, in conceptualising and designing, and then engineering it to manufacturing. That can also be a forte provided we have the confidence.
You feel confidence is what is lacking in the manufacturing sector?
Let me limit to the railways. Indian Railways and the industry aligned with it have a lot more knowledge and lot more capability to do much more than what they do today.
How did you feel when the train started moving on the tracks?
It happened in Chennai and it was a great feeling. But the high point was when the train crossed 180km/hr.
The chief mechanical engineer from ICF was on the train along with the others. The moment the needle crossed 180, he sent me a text with a video and the video went viral because it showed a bottle of water shaking only slightly.
There was a wave of happiness at ICF. It was our baby and we were all very happy.
Why were you not on the train?
On the first run, I was not on the train due to some reasons. I had small journeys one or two times later. I have not had a major journey in the train yet. But there were others from our team there.
Do you consider this as the high point of your career with the railways?
The pleasure was doing this project and once it is done, one has to move on to other projects. Yes, it is undoubtedly the high point of my career.
Now that you have achieved something big like this, would you continue to be associated with the Indian Railways like Mr E Sreedharan?
Mr E Sreedharan is a great man and the entire country knows what he has done.
Why only in Railways, in any field if I come across something meaningful, anything that tells our countrymen that we are not behind others, I will be willing to do that.
We may not be the best, but we must try to be the best. That's the spirit I would like to work in.