RailYatri offers a host of travel-related services to a 4.5 million user base. Shine Jacob finds out what's next for the app.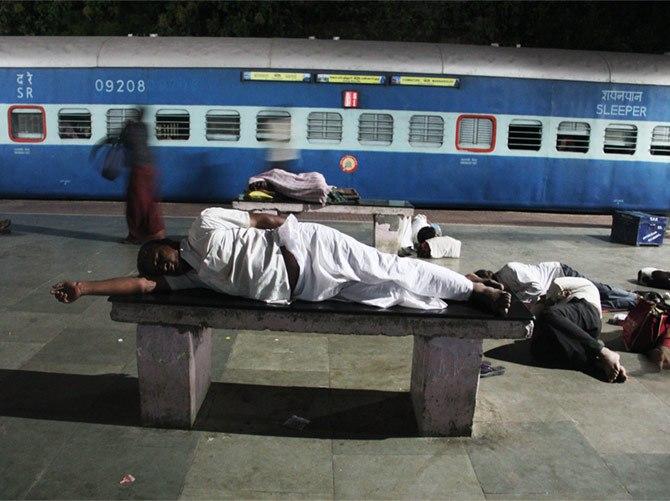 IMAGE: By the end of the next financial year, the RailYatri app expects to surpass the IRCTC site, which receives 12.5 million hits monthly. Photograph: Uttam Ghosh/Rediff.com.

Thalaivaa (Rajnikanth), Dabang (Salman Khan) and Virat (Virat Kohli) have nothing to do with Indian Railways. However, cut-outs of these three legends and a snooker table are what greet visitors to the office of RailYatri.in, a consumer application start-up. If you ask those working there, their response is, "We believe in work through entertainment."
The most consistent employee of the month is called Virat, the most fearless, Dabang, and the most extraordinary, Thalaivaa. This camaraderie and youthfulness has helped RailYatri attract 4.5 million monthly visitors since it appeared in its current avatar in 2014.
In October, the company raised an undisclosed amount from existing investors -- Nandan Nilekani, the man behind Aadhaar and a co-founder of Infosys; Helion Ventures; Omidyar Partners and Blume Ventures. The company has so far raised about $5 million in two rounds.
RailYatri recently morphed into a rail travel-oriented marketplace, enabling travellers to book services such as high-quality onboard meals, bus tickets and budget rooms.
"RailYatri does an excellent job of estimating train arrival time, which is a productivity benefit for all passengers. Using crowdsourcing, GPS and analytics, RailYatri can predict the arrival of a train at any platform accurately. So, people can reach the platform in time," Nandan Nilekani had told Business Standard in an earlier interaction.
The proposition
For anxious passengers with waiting-list tickets, it predicts the chances of these being confirmed. A number of other players like ConfirmTkt, RailInfo and Trainman also use predictive analysis to attract users. RailYatri claims it also assists passengers at different stages of their journey, starting from ticket bookings to keeping track of routes. RailYatri's GPS tracker provides accurate data from travellers in real time.
"We have data for three years. Based on that, using an algorithm, the chances of a ticket being confirmed, which helps passengers take decisions. We tell travellers if the ticket will be confirmed, when will the train arrive, at which platform, and how late is it running," says Manish Rathi, chief executive officer and co-founder of RailYatri.
Rathi, with friends Kapil Raizada and Sachin Saxena, rolled out the app in 2014.
From being a data provider, the company has diversified into on-track food delivery, budget rooms, bus and taxi services, merchandise, and railway ticketing. According to RailYatri, about 20 per cent of its revenue comes from the food business, for which it has tied up with YatraChef that has a network in a little more than 100 cities.
"Indian Railways Catering and Tourism Corp (IRCTC) had launched an online food delivery only a few months ago. RailYatri had forayed into this segment much earlier," says a railways ministry official.
Hotels and bus services bring in revenue shares of 10 per cent each.
The idea of RailYatri struck the promoters in 2012, when they worked with the Centre for Railway Information Systems (CRIS) to develop TrainEnquiry.com. They realised passengers had other information needs, which could be communicated graphically.
When asked about what made RailYatri different from its competitors, Rahul Chandra, co-founder and managing director, Helion Ventures, said, "Non-air travel choices in India have been unorganised, or at best have depended on previous experiences or experts like the bookstore owner on Platform 6. RailYatri parses the collective travel experience of millions of travellers at a time to present the best choices. The more people use it, the more data it collects, the more accurate information it can provide.
"Everyone benefits through participation. It has natural protection moats because it is the only source of real-time information, versus other players who rely on published time-tables."
Expert take
In today's environment, with people exposed to the internet on a large scale, passengers will look for the easiest possible manner to get all services in one basket. It may include food, booking hotels and tickets and other travel-related information. There are mobile internet applications, run by the railways such as Railradar and RailConnect, which provide such services to travellers, like RailYatri.
Now, many private players are also providing such applications. Their biggest challenge is the gradual improvement of the platform, which customers are looking for, and keeping information updated. Interestingly, some of these are sourcing data from the railway sites and provide it to customers, not the right thing to do. I am not sure from where RailYatri is sourcing this huge data from. They have to source this information in collaboration with railways, otherwise, it could land them in trouble.
-- Rakesh Tandon

Road ahead
According to Rathi, in the past two years, the company was successful in raising its value, which led to the present round of funding. However, RailYatri is still far behind the IRCTC site in terms of number of visitors.
"By the end of the next financial year, we expect to surpass the IRCTC site, which receives 12.5 million hits monthly. We want to ensure repeatability in terms of the number of customers visiting RailYatri," Rathi adds.
Nilekani believes the company can pull this off, using a combination of mobile, data, payments and analytics. Compared to global majors like Insight, Think Digital Travel, Think with Google, and Sojern, RailYatri has to deal with the more complicated structure of Indian Railways, where trains are delayed most of the time.
To monetise its business model, Rathi and his team are also considering product marketing.
RailYatri recently forayed into ticketing, where it depends on agents, compared to sites like MakeMytrip and ClearTrip, which are affiliates of IRCTC. "We are working on a model that will offer a price advantage of 10-15 per cent for passengers booking on our platform," Rathi says. RailYatri is in talks with various brands for being part of this exercise.
"RailYatri has experienced extraordinary growth with no marketing. It is astounding to witness such adoption by a section of consumers who are not first movers in digital products. We want to retain this momentum," Chandra adds.
Although the company is trying many things like food delivery, ticketing, data and budget hotels, it is not the first-mover in these segments. "We have an advantage of being the first aggregator," Rathi says.
It also faces the challenge of converting 40-50 per cent of its monthly traffic from only "checking out" visitors to active users.
The team and investors, including Nilekani, say the platform will soon develop into a one-stop shop for all needs of a rail passenger. "Soon, questions like 'Mera train kahan hai? (Where is my train?) Meri ticket confirm hogi ki nahin? (Will my ticket get confirmed or not?), and train right time par hogi ki nahin? (Will my train be on time?) will disappear," says Rathi.