As Covid-19 cases surge in India, companies have realised it's a tightrope walk between maintaining production and ensuring employee safety.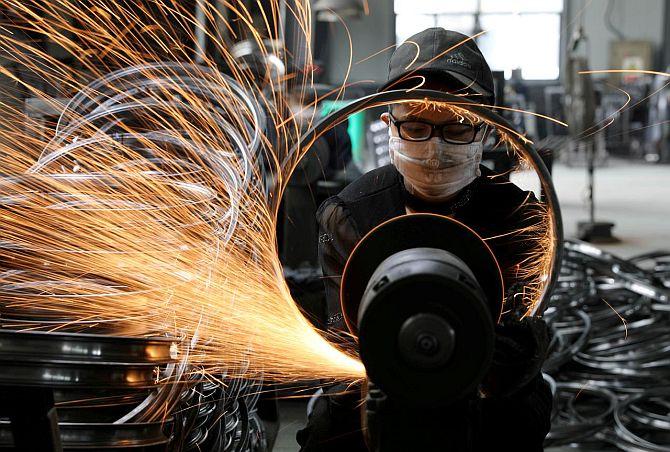 It's a complete overhaul of routine for Pawan Singh, who works at the paint shop of India's largest carmaker, Maruti Suzuki.
For his 8 am shift, he now has to report 15-20 minutes early, to comply with the mandatory temperature checks and full-body sanitisation.
Still, it's a small task, as through a carefully designed standard operating procedure (SOP), including an in-house app, and other measures, the company has ensured the factory premises remain free of Covid-19 since reporting one of the early cases after resuming activity.
Maruti has also restructured its shift timings and the number of employees working in each shift.
Sources said compared to pre-Covid days, only about 20-25 per cent of the total workforce is being called in to maintain social distancing.
Is it hurting production? Chairman R C Bhargava says it will, but it is the only way to go forward.
As Covid-19 cases surge in India, companies have realised it's a tightrope walk between maintaining production and ensuring employee safety.
Starting Friday, Bajaj Auto - which has seen persistent rise in Covid cases, with at least half a dozen succumbing to the pandemic - and other manufacturing units in Aurangabad, including Škoda Auto, will shutter their plants for nine days, following a hard lockdown being imposed by the district authorities.
It will take a knock on production, but companies hope to recompense in the remaining days of July.
As cash flow requirements assume priority, most companies are opting for regulated work shifts, reducing manpower requirements, and monitoring health of workers to keep Covid at bay or in check.
Employee safety
Unlike heavy engineering, auto and auto components, the labour requirement in fast-moving consumer goods (FMCG) companies is nevertheless less.
Still, many companies are focusing on those products, which are fast-selling and essential in nature.
Additionally, FMCG firms are operating single shifts only; double shifts are monitored closely to avoid fatigue and reduce the risk of infection.
Mayank Shah, senior category head, Parle Products, says the company is strictly following the cap of 50 per cent in terms of the number of workers who can enter and exit its plants, in keeping with social distancing norms.
Dabur, on the other hand, has transportation services for workers to and from its manufacturing sites.
Plus, housing has been provided for some workers near manufacturing plants.
In addition, Dabur is providing medical cover to all employees on its rolls, so that they feel protected in the event of a health concern, says Mohit Malhotra, chief executive officer (CEO), Dabur India.
The pandemic has made everyone realise the need to redesign the SOPs to ensure people and workplace safety in light of the new social contract, as building trust will be key to a successful road to recovery, says Vishal Jain, partner, Deloitte India.
A spokesperson for Toyota Kirloskar Motor (TKM), which reported some Covid cases, says, "TKM, under the guidance and support of the national and local authorities, is taking comprehensive action necessary to prevent any further spread and is taking adequate internal precautions, based on our own guidelines and standards of care."
One of the confidence-building measures that companies are adopting is Covid testing and health check-ups.
JSW Steel has Biocon officials visiting its Bellary plant every week to test everyone, especially the aged or those showing signs of mildest symptoms.
The plant reported a significant number of Covid cases in the early part of June.
Vedanta, which has a system of 21-day on/off (change of staff) at its oil and gas operations, is placing workers in quarantine for four-five days, checking for symptoms and also conducting Covid-19 tests.
If the report is all-clear, they can take on work, says Sunil Duggal, group CEO at Vedanta.
At the plants and mines, anyone coming from outside is kept in quarantine for four-five days and only a negative Covid test secures entry.
Impact on production
"There is too much uncertainty to predict when there will be recovery.
"The new social distancing protocols also reduce productivity somewhat," says Bhargava.
Bajaj Auto's unit in Waluj industrial area had been operating at 30-40 per cent capacity in line with guidelines.
The unit accounts for half of Bajaj's total annual output.
Shree Cement executives say there was definitely an impact on the time taken for a specific production activity due to the distancing norms.
Kamal Nandi, executive vice-president, Godrej & Boyce, says due to social distancing, the number of employees that one can accommodate at any given time has come down, but so has shift productivity.
But the situation is improving rapidly, he adds.
A Panasonic India spokesperson says manufacturing operations had resumed with 25 per cent capacity and would gradually ramp up month-on-month.
But the road to recovery will be riddled with challenges and business continuity plans are being put in place.
Vinod Nowal, deputy managing director, JSW Steel, says, "We have an immediate replacement ready, so that there is no waste of time and work carries on.
"In certain places, where it is critical, seniors will step in if required," adds Nowal.
Photograph: Reuters
---
With inputs from Arindam Majumder, Arnab Dutta, Viveat Susan Pinto, Aditi Divekar, Amritha Pillay, Shally Seth Mohile, and Ishita Ayan Dutt