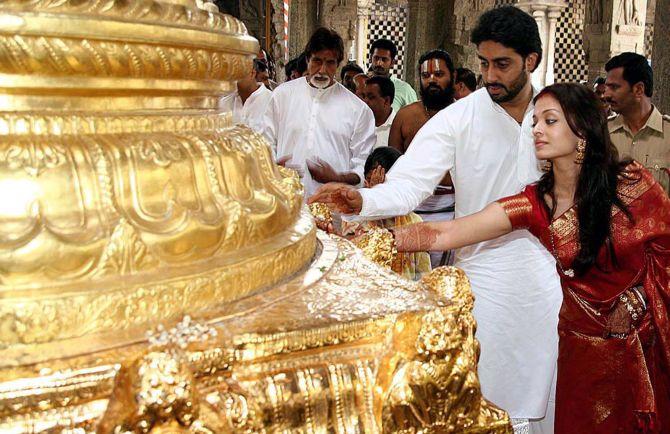 Antique jewellery can be displayed to tourists for a fee: WGC
India may see a new kind of tourism where with antique gold jewellery held by temples are displayed for a fee to domestic and foreign tourists.
The World Gold Council has engaged the Federation of Indian Chambers of Commerce and Industry to conduct a feasibility study in six months after which a proposal will be forwarded to the relevant ministries.
Some antique jewellery is displayed in a couple of museums in the world.
Gold tourism would be a first of its kind, if implemented properly.
Old temples have jewellery of antique value that cannot be monetised, but they can earn fees for viewing. "The objective is to keep jewellery on display for public viewing for a fee.
This will increase temples' earnings," said Somasundaram PR, managing director, World Gold Council, India.
Estimates suggest temples hold around a fifth of the 25,000 tonnes gold in the country. Some of these temples have been accumulating gold for centuries.
The WGC had in 2014 envisaged a gold tourism circuit for hand-crafted jewellery.
However, little progress was made because of lack of guidelines for jewellers and differences over selection of jewellery.
Individual temples can keep ornaments on display under their own surveillance. Security can be controlled by temple trusts.
"The idea is not bad. But infrastructure and security could be big challenges.
Some temples can do it," said Rajesh Mehta, managing director, Rajesh Exports, a jewellery chain.
FAITH IN GOLD
Some antique jewellery is displayed in a couple of museums in the world
Gold tourism would be a first of its kind, if implemented properly
Estimates suggest temples hold around a fifth of the 25,000 tonnes gold in the country
Individual temples can keep ornaments on display under their own surveillance. Security can be controlled by temple trusts
Actors Abhishek Bachchan and his wife Aishwarya Rai at Tirumala Tirupati Devasthanam temple shrine in Tirumala. Photograph: Reuters