Apple's online launch is a symbol of success for FDI in single-brand retail, though there's no indication of how much the Silicon Valley major would invest in the country.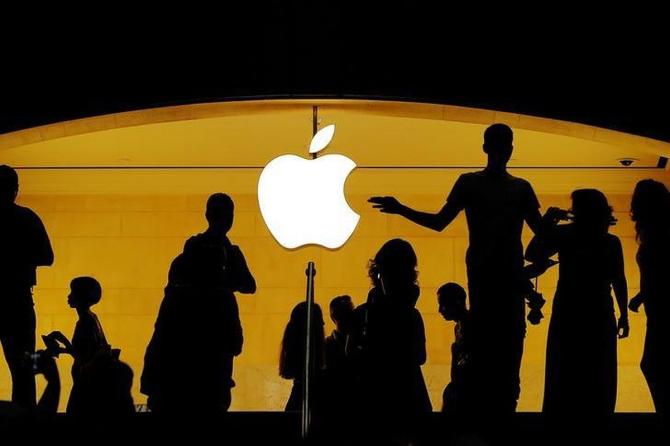 The best place to buy Apple is Apple.
That's how the Cupertino-based tech giant explained why it opened the online Apple store in India last month, 23 years after the company's first online outlet was opened in the US in 1997 and 19 years after the physical retail debut at Tysons Corner in McLean and Glendale Galleria in Southern California, US, in 2001.
The online launch is meant to be a precursor to India's first physical store coming up next year.
That is when the real experience of buying Apple at Apple in India will come alive with iconic features like the Genius Bar, previewed by founder Steve Jobs almost two decades ago.
So what, really, is the big deal about one of the most valuable companies in the world making an online debut in India so late in the day?
Government officials and industry executives point out that Apple has been the biggest brand, besides Walmart, engaged in talks for a very long time with India for foreign direct investment (FDI) in retail.
In that sense, Apple's online launch is a symbol of success for FDI in single-brand retail, though there's no indication of how much the Silicon Valley major would invest in the country.
In the absence of the multi-brand retail policy taking off and the likes of Walmart failing to set up stores despite permission for 51 per cent FDI, Apple's entry is being seen as a turning point.
A source in the know said Apple had been waiting for India to relax the mandatory 30 per cent sourcing norms that are built-in with the single-brand FDI policy.
While the Manmohan Singh-led United Progressive Alliance government had allowed up to 100 per cent FDI in single brand, enabling Sweden's Ikea to commit an investment of Rs 10,500 crore over 10 years or so, Apple kept its India plan on hold while negotiating with the government for an easier set of guidelines on sourcing.
It helped Apple that Ikea, too, was aggressively negotiating for the sourcing rules to change.
Last year, as the Narendra Modi government began its second stint, the sourcing norms were relaxed further, in a move that would help usher in the biggest single-brand FDI - Apple.
What really changed and how? CEO Tim Cook's weeklong multi-city visit in 2016, including a meeting with PM Modi, was an evidence that Apple was serious about India but would set up stores on its own terms.
From there on, the government moved on the fast track.
Against the earlier policy of 30 per cent of the value of goods sold in India to be procured from the country, the government in August 2019 expanded the definition of sourcing.
It allowed all procurement by any company, including for exports, to be taken into account for complying with the sourcing norms.
With that, the burden of mandatory sourcing from India reduced substantially for multinationals, whether it's an Ikea or Apple.
In another relaxation, the firms were free to meet the local sourcing requirement as an average during the first five years and thereafter annually.
In addition, single-brand chains could open online stores before setting up physical stores in the country - a step that had, so far, been taboo.
For India, the iPhone-maker is seen as a major FDI in retail; for Apple, to be present in India the way it is in more than 25 countries across 500-plus stores, the long-term gain is significant.
In fact, during the pandemic, India was among the four destinations (besides Singapore, China and Thailand) where Apple had a store opening.
India was the only online opening during the period, but Apple enthusiasts like to remind you that in most geographies physical retail followed a virtual debut.
Its online stores are present across 38 countries and Apple likes to call itself one of the world's most experienced e-commerce companies.
As Navkendar Singh, research director (devices and ecosystem-India & South Asia), IDC, said, Apple is known for its retail stores in terms of location (they are landmarks in a city) and experience.
Since a physical store in India (Mumbai) is in progress, the company can possibly bring some aspects of its experience via the online store, he said.
However, while India is an important market for Apple in the longer term, it's also noteworthy that Apple belongs to the premium and super-premium segments in a market that has 80 per cent share below the $200 level, said the IDC analyst.
Even in personal computers and ear-wear, Apple has a premium positioning.
"To that extent, we might not see an immediate impact on its market share just because Apple Online has been launched…," according to Singh.
This is one of the steps being taken by the company to increase the relevance and ultimately gain volumes in the long run, he added.
According to head of Cyber Media Research (CMR) Industry Intelligence Group Prabhu Ram, after many years of waiting, Apple's relationship with India is finally getting potentially stronger now.
"I believe the Apple Online Store is just the first in a series of nascent steps taken by Apple in India.
"This move comes at a time when the market conditions in India are fluid and offer an opportunity for Apple to break free," said the CMR analyst.
For Apple, customisation initiatives in local languages at its India online store, including engraving on the devices, are among the differentiating factors ahead of the festival season.
The online store opening coincides with a step-up in manufacturing of Apple devices by companies such as Foxconn, Wistron and Pegatron in India and it will come in handy for the tech major.
When asked if the anti-China steps have encouraged Apple to hasten the India journey, a source close to the developments said the store openings have been in the making for years and that what's happening externally has had no bearing on the company's plans.
Also, the company is clear that despite its own online store in India, its products would continue to sell on e-commerce platforms like Amazon and Flipkart as well as in other physical retail chains.
Photograph: Lucas Jackson/Reuters