The record in net addition from the top four was in 2016-17, of 59,427 employees.
Illustration: Uttam Ghosh/Rediff.com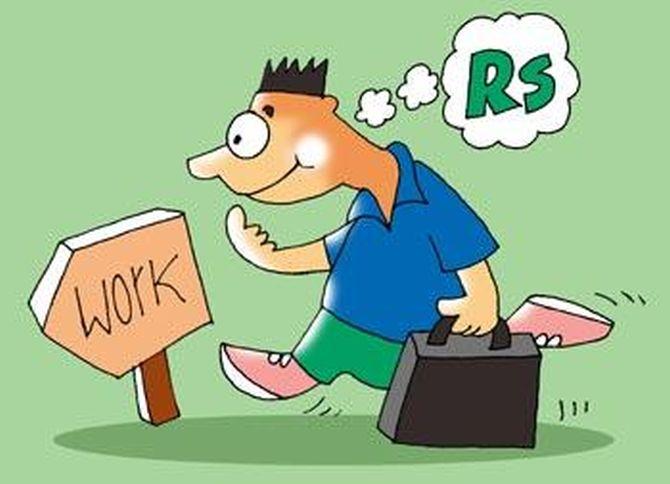 Staff addition has jumped this year at Indian information technology (IT) service majors.
The financial year's first quarter (April-June or Q1) saw a net addition of 16,500 (after accounting for the number who resigned) at the top four - Tata Consultancy Services (TCS), Infosys, Wipro and HCL. In the September quarter (Q2), this doubled to 32,502.
In sum, the first half of 2018-19 has seen these four add twice as many staffers on a net basis than in all of 2017-18.
If this rate continues, net addition at these companies in FY19 will be at least three times higher than in FY18.
Among the reasons are a revival in demand in key segments such as banking, financial services and insurance (BFSI).
Also, an all-time low bench (staffers not assigned to a project) to assign in newer projects, as well as a rise in sub-contracting cost, owing to roping in of third-party resources.
All these are leading to more of hiring.
The first two quarters are also when IT companies typically infuse more of new resources, especially from engineering colleges.
TCS added 10,227 employees in Q2, their highest net addition over the past dozen quarters.
Wipro saw a net of 10,687 in the quarter, though this includes almost 9,000 through its acquisition of Alight HR Solutions, part of a mega deal the Bengaluru-based company had clinched.
In Q2 a year before, the top four only added a net 1,519 employees; Infosys and Wipro saw a decline.
The chief hiring inhibitors last year were value compression and cannibalisation from automation, movement to cloud technologies and a weaker but improving competitive position in "new areas" and insourcing, say analysts.
With "new" and digital opportunities picking up, in addition to large deals, IT companies have rapidly switched to aggressive hiring as they compete for talent in the sector.
"While we have accelerated localisation and local hiring, we still need to meet certain immediate project requirements, especially in digital and niche areas," said Ranganath Mavinakare, chief financial officer at Infosys earlier this month, after announcing the Q2 results. He was talking about the rise in subcontracting expenses.
Infosys' focus on optimising of onsite employee cost led to a decrease in this as a proportion of revenue, to 37.4 per cent in Q2 as compared to 37.9 per cent in Q1, one of the lowest in recent years.
However, the proportion of subcontracting expenses increased to 7.4 per cent of revenue in Q2, as compared 6.2 per cent in Q2 of last year.
Similarly, HCL Technologies said accelerated local hiring and project requirements in niche areas, along with increased onsite attrition, drove subcontracting costs up.
"We have seen net addition improving during Q2, which will play into Q3. There is a lot of demand. So there's definitely good competition for talent," says C Vijayakumar, chief executive officer.
While the companies mostly do not separately report the number of employees re-badged through their large deals and acquisitions, these are also expected to have contributed to the growing employee addition in the first two quarters.
"We could continue to hire at an aggressive level. We have utilisation as a lever, which we have said that we're constantly focused on," said TCS chief executive officer Rajesh Gopinathan during the post-results analysts' call.
The record in net addition from the top four was in 2016-17, of 59,427 employees.