The mobile consumers may see first signs of mobile number portability (MNP) in Haryana from November 25, but the differences are cropping up between the Department of Telecommunications (DoT) and the industry over the launch of MNP in the rest of the country.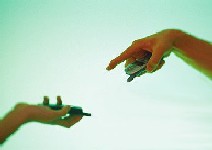 DoT is adamant that MNP should be launched by December 20, while GSM mobile players are seeking to postpone the date by a month to January 20.

At their last meeting with DoT, some GSM companies expressed their inability to implement MNP by the deadline set by the department due to unreadiness.

It is also learnt that the operators are wary of introduction of MNP in the peak season of December and January, when the mobile usage is high.

MNP would allow mobile users to change their service providers while retaining their mobile numbers.

A senior DoT official confirmed some GSM companies had sought postponement of the launch date to January 20. But the official refused to divulge the names of these companies.

Though MNP would start from the Haryana circle by the scheduled date, there was uncertainty over the launch in the rest of the country, the official added. The home ministry has already cleared the proposal of Telcordia, one of the companies that have been selected by DoT to implement MNP.

On November 1, the government had announced that MNP would be launched from November 25. "The launch of MNP services will start from Haryana-licensed service area (telecom circle) on November 25, 2010," DoT had said in a statement. It had also said that the networks were now technically ready for the launch of the service.