Revenue rises 20.7% to Rs 36,854 crore.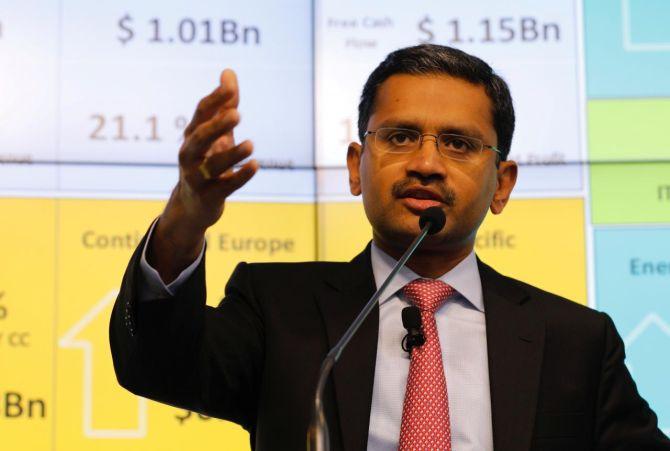 Tata Consultancy Services, the leading IT services, consulting and business solutions firm reported its consolidated financial results ending September 30, 2018 on Thursday.
Financial highlights for quarter ended September 30, 2018
Revenue at Rs 36,854 crore, +20.7 % YoY
Net Income at Rs 7,901 crore, +22.6% YoY
Operating Margin at 26.5%, an expansion of 1.4% YoY
Earnings Per Share at Rs 20.66, +22.7% YoY
Net cash from operations at Rs 7,363 crore ie 93.2% of net income
Dividend per share of Rs 4.00
Business highlights for quarter ended September 30, 2018
BFSI, Retail verticals continue to accelerate: +6.1% and +15.6% YoY respectively
UK and Europe lead growth: +22.8% YoY and +17.4% YoY respectively
Superior client additions across bands: 4 new clients in the $100M+ band, 7 in the $20M+ band, 10 in the $10M+ band, 11 in the $1M+ band
World's largest Agile-ready workforce: 279,000+ employees Agile trained
Net addition of 10,227 in Q2: highest in 12 quarters
Best-in-class retention: IT Services attrition rate steady at 10.9% LTM
Commenting on the Q2 performance, Rajesh Gopinathan, CEO and MD, said, "We are very pleased with our all-round strong performance in Q2.
"Revenue growth was driven by expanding demand for digital transformation across verticals, and continued acceleration in BFSI and Retail.
"Our industry-leading digital growth, and best-in-class client metrics bear testimony to our standing as the preferred partner in our customers' growth and transformation initiatives," he added.
N Ganapathy Subramaniam, Chief Operating Officer & Executive Director, said,"This has been a very good quarter, with strong demand in areas like analytics, cloud and automation.
"Our Quartz Blockchain Solution is gaining traction, and we are seeing the creation of nascent ecosystems which could transform markets.
"Our Enterprise Agile 2020 vision is shaping open, collaborative workplaces and Agile ways of working."
Photograph: Danish Siddiqui/Reuters