Indian software firms have been retraining their workforce in emerging technology areas, also helping them get certified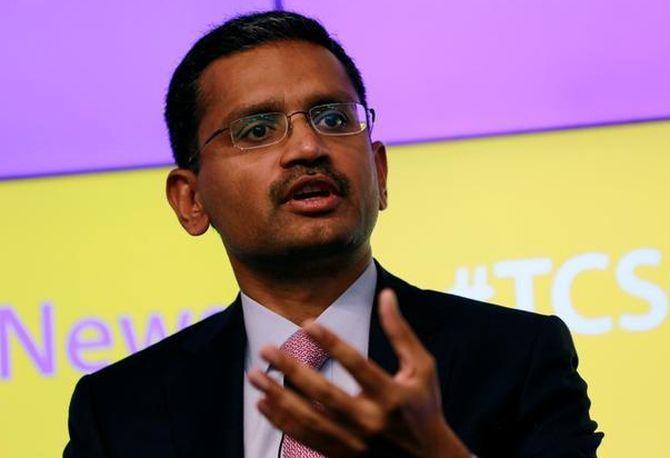 Tata Consultancy Services, the country's largest software exporter, says its investment in upgrading the skills of employees in digital and emerging technologies is showing returns.
With it, the firm says, they're being able to harness the talent to bag newer contracts from clients.
"We have a very strong in-house talent development programme and prefer to train an employee on new skills before looking at options. We started training our employees on digital skills a couple of years ago and this focus has contributed greatly to our growth," says Ajoyendra Mukherjee, executive vice-president and global head of human resources (HR).
While lateral hiring continues, the large scale of digital requirements cannot be met without utilising the available talent pool, he adds.
Indian software firms have been retraining their workforce in emerging technology areas, also helping them get certified.
This is happening while clients reduce the spending on traditional outsourcing and shift those budgets towards the areas of digital and cloud.
Contract trends were steady in the September quarter. There was 16.1 per cent growth over the year in global ACV (annual contract value), highest in six quarters, said Apurva Prasad of HDFC Securities, analysing data from Gartner and ISG.
While outsourcing for legacy services grew only 1.4 per cent, nearly 44 per cent of global contracts were in digital or deals that had vendors deliver product or solutions as a service.
Currently, a little over 240,000 of TCS' 389,213 employees have undergone its skill upgradation programme.
This focus has gone down to all their training programmes, including for freshers. The new skills paid off; the chief executive announced higher quarterly variable payout, on the back of stronger revenues.
Though the second quarter results didn't hold much surprise in growth numbers, digital revenue jumped 31 per cent over a year.
"Employees benefit if the organisation is doing well, in multiple ways. The bonus gets distributed across geographies.
The whole model is geared towards growth and our HR policy aims at sustaining this growth. Quarterly blips (like the past quarter) will happen but for the overall industry, those (earlier) days of high-double digit growth…will probably take some time. We still continue to grow as an organisation," said Mukherjee.
The organisation added around 16,000 employees this quarter, with one of every four recruited abroad.
Delivery centres across North and Latin America and the Asia-Pacific contributed the most to this number; these regions have a lot of local hires due to business and language requirements. However, the net hiring was 3,404 people.
All information technology companies have been putting up a positive profile in the US after the Trump administration's scrutiny on tech roles that seem dominated by Indians, beside a slew of civil lawsuits that alleged discrimination against non-South Asian employees.
Infosys declared plans to hire 10,000 employees over next two years and Wipro said half its workforce there would be local by the end of this year.
TCS went a step ahead, adding heavy grants to academia, campus leadership programmes, job fairs and women and child education initiatives.
"TCS is a much more diverse organisation than what it used to be. Programmes have to be adapted to business, cultural and behavioural aspects.
We do still have (training) programmes on a legacy environment because we support legacy clients but also have newer technology and rotation within the requirements, which helps a great deal," said Mukherjee.
The organisation is also involved with academia in a number of skill development programs to help communicate industry requirements; it says there is scope for improvement in this regard.
Photograph: Danish Siddiqui/Reuters