TCS, which, plans to earn $1 bn in 3-7 years will explore segments such as cyber security, internet of things, analytics of IoT, and cloud application and infrastructure.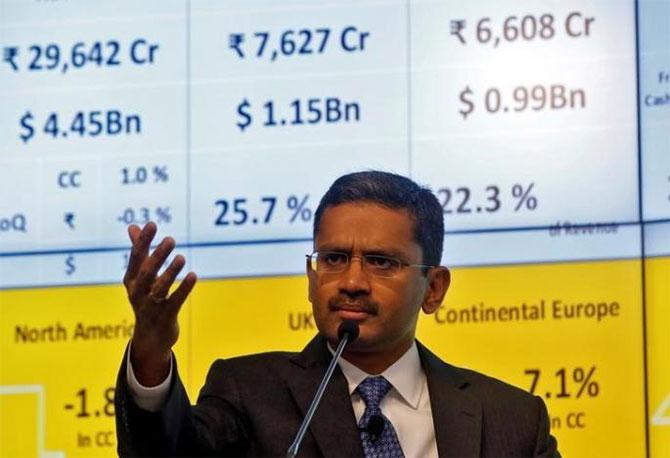 Tata Consultancy Services (TCS) is planning to launch several businesses in emerging technology segments to earn about $1 billion each over the next three to seven years.
The largest information technology (IT) services firm in the country, TCS will explore segments such as cyber security, internet of things (IoT), analytics of IoT, and cloud application and infrastructure.
The company expects 16 such new segments and sub-segments, including some existing ones that have shifted focus to digital, to be key drivers of growth, as customers concentrate resources in new areas.
"All these have revenue targets of varying degrees. Many have the ability to scale up to a billion-dollar business in three to seven years," Krishnan Ramanujam, president, business and technology services, TCS, told Business Standard.
TCS and its rivals are experiencing changes in customer behaviour, with more and more of them shifting budgets to digital and cloud, while demanding price cuts.
Automation in traditional application development and maintenance services is also changing the way the sector has worked till now.
Ramanujam said TCS was adapting to the changes. "In digital, the ability of multiple service lines coming together and creating outcome for clients is essential. Folks who work without boundaries will succeed big time."
The company has created three large groups - cognitive business operations, digital transformation practices, and consulting and service integration - to deliver services to clients globally.
TCS is looking at three major benefits from this. First, it wants to become a more agile IT services firm, focusing on the outcome for customers. It also wants to expand the services by including decision makers.
Finally, it would help in focusing the company's investment on future line of growth - be it digital or re-skilling. "On our Fresco platform, nearly 200,000 people have been retrained," said Ramanujam.
The Tata group company's clients include global firms such as Citibank, Siemens, Ferrari, Bombardier and Nissan. Currently, about 17 per cent of its $17.5-billion revenue is from digital services.
TCS believes the changes it is implementing would be profitable.
"If you look at the electronics sector, as Moore's Law predicted, the cost of the chips keeps going down exponentially. While that drove down the cost of an individual chip, it resulted in more substantial orders in the overall market," said Ramanujam.
He added that the IT services sector was going through a similar transformation.
"We are driving down the cost of keeping the lights on. Our customers will have more ability to invest in newer innovations and this will expand the pie for automation."
Photograph: Shailesh Andrade/Reuters