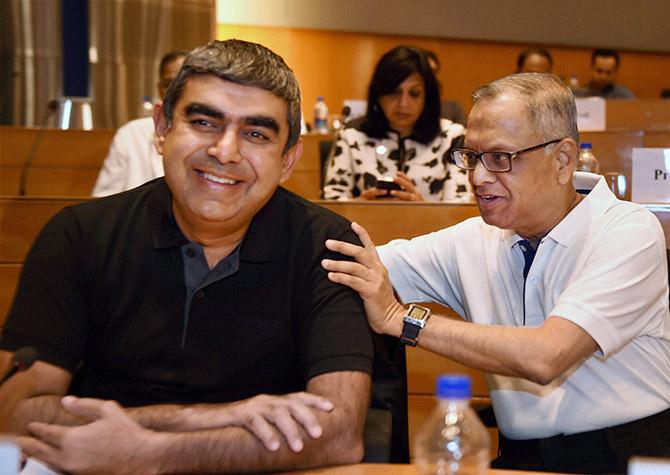 'I respect and trust the co-founders' decision of contributing towards philanthropic activities, entrepreneurship and other initiatives,' Vishal Sikka, CEO, Infosys said in a statement, reports Riju Jha.

As four founder families sold part of their Infosys holdings on Monday, Vishal Sikka welcomed the move saying the sale of shares for philanthropic and entrepreneurship purposes was a good initiative.
"As I have always said, the founders have left an indelible legacy and culture in this iconic company and I respect and trust their decision of contributing towards philanthropic activities and entrepreneurship and other initiatives...So, in that sense again this action by them is aligned with the company's values," Sikka said in a statement.
"In fact, contributing to the greater good is something close to the company's heart, I am looking forward to further strengthening and reinforcing this area," he added.
Sikka, the first outsider CEO of Infosys, noted that the four co-founders continue to be among the largest retail shareholders in the company and they have reiterated their commitment to the future of the company and reinforced their belief in and support of its leadership.
On Monday, families of four Infosys co-founders, including Narayana Murthy and Nandan Nilekani, sold over $1 billion (Rs 6,484 crore) worth shares -- within months of all original promoters exiting the management.
While these four co-founders, which also include former CEO S D Shibulal and K Dinesh, have monetised only part of their holdings -- for entrepreneurship and philanthropic activities -- their action led to a sharp plunge of about 5 per cent in the IT heavyweight's share price eroding almost $2 billion from the company's market capitalisation.
A total of 3.26 crore shares, accounting for over 5.5 per cent stake in the company, were sold through multiple deals by Murthy, Nilekani, Dinesh and some of their family members, as well as wife of Shibulal.
Expressing confidence in the future of Infosys and its leaders, N R Narayana Murthy, in a statement said, "Our family has sold a minor part of our stake to continue various activities including our efforts to encourage entrepreneurship and our personal philanthropic efforts. These are activities that I expect to be busy with during the next phase of my life. Even after this sale our family continues to be the largest shareholder among retail shareholders."
Infosys, which currently commands a market value of about Rs 2.25 lakh crore, was founded by seven engineers, including these four, by pooling together just $250 in 1981, while all the promoters together held 15.92 per cent stake at the end of last quarter.
Image: Vishal Sikka with N R Narayana Murthy at Infosys headquarters in Bengaluru.
Photograph: Shailendra Bhojak/PTI

(With inputs from PTI)