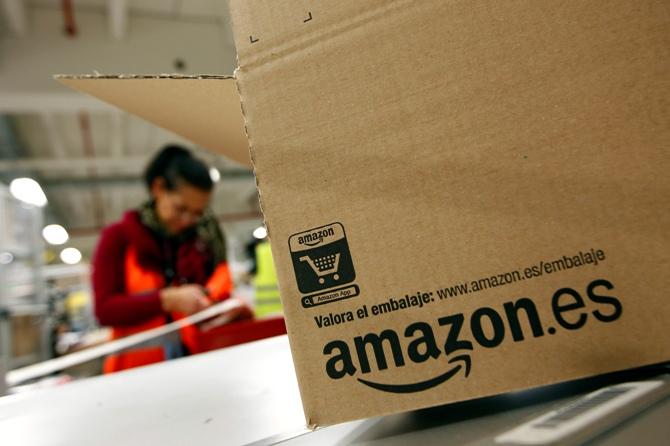 The e-commerce giant is using lessons learnt in India to shape its brand experience the world over
It has been a few weeks since Amazon jumped into India's booming grocery delivery business with Kirana Now.
Modelled on AmazonFresh, the grocery delivery business in the US, Kirana Now was tested in select localities in Bengaluru for several months before its formal launch.
And it is highly likely that as Amazon takes this service to other countries, its Indian street cred will come hugely handy.
The Indian business has turned up a few surprises, not just in the numbers the company claims that it has managed to clock in but also in the way it has helped calibrate the brand's engagement with customers and sellers globally.
Over the past year two innovative products, Easy Ship and Seller Flex, conceptualised and incubated in India have been shipped out to several countries.
This has helped fine-tune seller-distributor engagements and cut costs though the company does not reveal the extent of saving incurred.
The Indian experience is reshaping Amazon's operations worldwide, but even more interesting is the evolution of the brand, as a flexible and adaptive entity, tuned in to the unique needs of the host country.
"When we looked at the problems faced by sellers, what we realised is our gold standard programmes like Fulfilment by Amazon and Merchant Fulfilment Network which worked really well in other locales are just part of the equation," said Gopal Pillai, director (seller services), Amazon India.
Getting around the red tape
Persisting with a global model in a country that posed different kinds of challenges -- when it came to delivery networks, infrastructure capabilities and warehousing facilities -- could turn into a fatal flaw. Amazon was quick to pick up on this.
Pillai says, "We realised that the merchant fulfillment network requires a lot of work from the seller side.
"While a sophisticated seller can do it, somebody coming new to retail or e-commerce, without the infrastructure will struggle.
Besides, India's archaic rules and inter-state tax regulations for stocking goods were a hurdle.
And given that a lot of sellers don't want their inventory locked up with the company and that majority of sellers on e-commerce platforms also have an offline presence, it was going to be unviable for them to ship products out before they were ordered online.
Globally, e-commerce firms stock goods in huge warehouses the size of multiple football fields and ship them to consumers as and when the orders are placed.
In India, however, this would not work so Amazon changed its model.
It came up with a facility called 'Easy Ship' -- once an order is received, vendors pack the product and Amazon's logistics team picks it up and delivers to customers.
Another model it uses is 'Seller Flex' where Amazon asks its sellers commit inventory for the e-commerce firm but have to stock it at their stores.
Based on the commitment, Amazon pushes discounts and prices for the products on its platform.
Flexible and adaptive
Both Easy Ship and Seller Flex are being tested out in other markets.
Not just India-like markets, but even in developed regions, albeit tweaked to fit local requirements, said a company spokesperson.
In India, 75 per cent of the sellers on Amazon's platform use Easy Ship, but it might not become such an integral part of the logistics and delivery backend in other regions since Amazon functions as a retailer in most markets.
"What this will do is improve the delivery experience.
"The cost of doing business online reduces drastically, where we don't have to put even a single person for logistics or put four or five persons to courier or negotiate with them (sellers) or manage them on a day to day basis," added Pillai.
"In India, Easy Ship, which was launched in April 2014, has been a success.
From servicing 2,000 pin codes in 2014, the company was servicing over 19,000 pin codes by the end of 2015.
"Sellers using the service have seen revenues grow by 40 per cent," said Pillai.
Innovation at Amazon India is driven by both, efforts to improve the e-commerce experience for customers and sellers in the country, and to stay in the game given the strong competition being put up by homegrown rivals Flipkart and Snapdeal.
The country's e-commerce market is estimated to have hit $12 billion during 2015 and will grow into a $100 billion giant by the year 2020 according to a study conducted by PricewaterhouseCoopers.
Save for China, Amazon has had a great track record of making it big in markets outside the US.
In India too the company is one among the top three contenders in the space.

Globally, the company says that it gives its local arms the freedom to innovate and implement solutions that they see fit to improve the ecosystem.
It is doing the same with grocery delivery, another fast-growing sector in the Indian e-commerce space.
The company has been running a pilot for 'Kirana Now' since March 2015 in Bengaluru with five local grocery stores and plans to use its existing logistics backend to deliver products within four hours to customers.
Kirana Now is modeled on AmazonFresh which has been introduced in several cities in the US, offering next-day and early morning deliveries.
In India, Amazon is particularly targeting neighbourhood mom and pop shops.
It will also run training programmes developed in-house to bring more sellers onto its platform, especially those who are not tech savvy.
The e-commerce major is going all out to get the elephant to dance to its tune.
Image: A worker packs a box at Amazon's logistics centre in Graben near Augsburg. Photograph: Michaela Rehle/Reuters