Leading personal computer maker Lenovo on Thursday announced its foray into the smartphone market in the country with the launch of five android-based smartphones.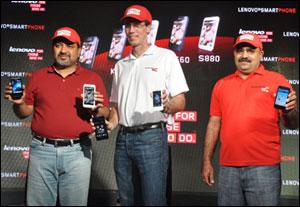 "Having witnessed success in the PC space where we are currently No 1, our entry into the smartphone category is a strategic move that reinforces our commitment to lead technology and innovation across the four screens," Lenovo India managing director Amar Babu told reporters in Mumbai.
The number of consumers adopting smarter, wireless technology in the country is on the rise. The current market is for around five million smartphones which is expected to go up to around 30-35 million by 2016, he said.
The company's move stems from it's four screen strategy of which smartphones is a key component. The four screens comprise of PCs, tablets, smartphones and smart TVs.
Lenovo is entering India after building successful mobile phone business in countries like China, Indonesia, Philippines, Russia and Vietnam.
The company has launched five models in the Indian market at a price ranging from Rs 6,499 going up to Rs 28,499.
Initially, these smartphones will be available in the southern states and Gujarat and will be available across the country in another six months, Babu said.
These smart phones have battery life that lasts for at least two days with a standby of 3-4 days and on the higher side battery life is up to 34 hours with a standby of seven days.
"This product range will be imported from China and we may refresh these five models in India next year," Lenovo vice president, business operations and worldwide business development, J D Howard said.
The smartphone segment provides a huge growth potential as there are overall 600 billion mobile phones in the world, of which 600 million are smartphones. In another five years, the overall number is expected to go up to 800 billion and all will be smart phones, he stated.