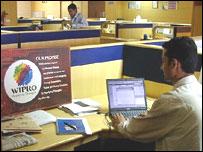 Buoyed by steady recovery in demand for technology services, the Indian IT-BPO sector is estimated to grow 19 per cent in 2010-11 to $76 billion in revenues, software industry body Nasscom said.
"Pent-up demand for IT-BPO services and return of discretionary spending in the market were the key drivers for the industry performance," Nasscom President Som Mittal told reporters.
Exports would continue to be the mainstay of the industry with estimated growth of 18.7 per cent to $59 billion revenue. Domestic market, on the other hand, is estimated to grow 16 per cent, to aggregate Rs 78,700 crore (about $17 billion) in 2010-11.
"Increased technology adoption across government, corporates and SMBs for providing citizen services, enhanced internal controls and customer service led to an increase in outsourcing within the domestic market," Mittal said.
However, the slow economic recovery in the US and uncertainty in the European region has forced the body to present a conservative outlook of 16-18 per cent growth in exports for 2011-12.
For FY12, the software and services growth is expected to grow at 16-18 per cent with $68-70 billion in revenues. The domestic market is estimated to grow by 15-17 per cent with revenues of Rs 90,000-92,000 crore (about $19-20 billion).
Nasscom had earlier projected exports growth at 13-15 per cent and 15-17 percent for the domestic market for the financial year 2010-11. Direct employment is expected to reach nearly 2.54 million, an addition of 2.40 lakh employees in 2010-11.
Asked about the headcount addition in the fiscal 2011-12, Mittal said, "It should be in the same proportion as this fiscal." Within exports, IT services segment is expected to be the fastest growing segment (at 22.7 per cent) with expected revenues of $33.5 billion. BPO export segment is anticipated to grow by 14 per cent to reach $14.1 billion in FY11.
"BPO sector was impacted by delayed decision making and deal restructuring in the first half of the year, but picked momentum in the second half," Mittal said.
Engineering design and products development segments is estimated to generate revenues of $11.3 billion in FY11, growing 13.4 per cent.