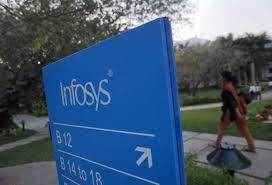 Infosys, India's second-largest information technology services company, was expected to see stronger revenue growth in 2015-16 and 2016-17, because of its offerings, as well as improved client mining, brokerage firm CLSA said in a report on Tuesday.
It predicted Infosys would more than double its dollar revenue growth in 2016-17 to 15 per cent from seven per cent in 2014-15.
Infosys is yet to announce its 2014-15 results, but it had provided a revenue growth forecast of seven-nine per cent for the year.
"With the new management, Infosys should see stronger revenue growth in FY16-17, as it gains leadership in digital and traditional services, while improving client mining," the CLSA report said.
"We expect Infosys to accelerate revenue growth through leadership in social, mobile, analytics and cloud services/digital services, greater participation in scale-services deals, and improved client mining," it added.
Board to meet in Chennai
For a change, Infosys has decided to hold its board meeting in Chennai, where the company will also announce its fourth quarter and FY15 financial numbers on April 24.
This is for the first time that the Bengaluru-based company is holding its board meeting outside of Karnataka though it has organised the same twice in the past in Mysuru where Infosys owns a huge campus.
Confirming this, a senior official of Infosys said this is part of the proposals to hold board meetings in cities which house large delivery centres for the company which will also give a scope to the employees to interact with the senior management in a regular interval.
In future, the company is looking at holding board meetings in other cities like Pune.
SMAC/digital services offerings account for 10 per cent of Infosys' revenue, and these are growing 30 per cent year on year.
The brokerage firm said it expected Infosys to consolidate its profit margin in 2015-16 and expand it in 2016-17.
"By shifting to the provision of offshore services and raising utilisation, it has seen margin recovery, which can be maintained by re-aligning the organisation for new disruptive services, raising billing rates, reducing its reliance on subcontractors and increasing utilisation and automation while reducing attrition," the report said.
In the quarter ended December 31, 2014, Infosys' profit margin was 26.7 per cent, an expansion of 60 basis points (a basis point is a hundredth of a percentage point) from the previous quarter.
CLSA said Infosys was expected to announce its capital allocation strategy soon that would aid the company to strengthen its position in SMAC and plug the capability gap.