Sikka said second quarter will be better than the April-June period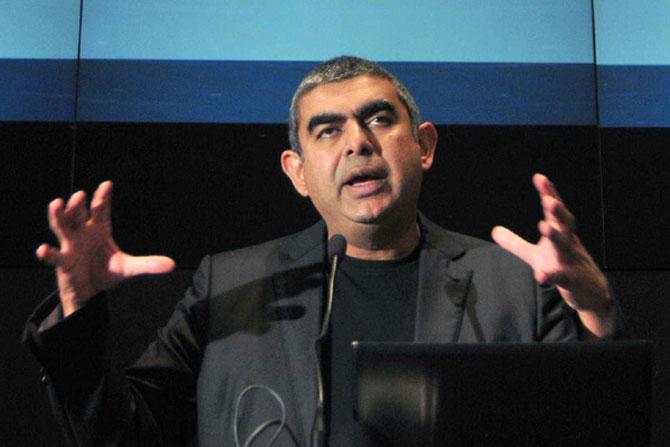 India's second largest software services firm Infosys, on Friday, said it will give a clearer picture on its revenue guidance post the September quarter.
In an analysts' meet, the Bengaluru-based company it is witnessing "softness" in some clients, post Brexit, and the recent cancellation of the RBS contract shows how key clients were being cautious in the wake of Britain leaving the European Union.
"There are uncertainties across sectors, geographies. We did not see the RBS ramp down coming at the start of the quarter. We are seeing softness in some clients, post Brexit, now which was not anticipated at the start of Q2. We want to see if the RBS is a one-off case or there are more like RBS," Infosys CEO Vishal Sikka said.
He, however, added that the second quarter will be better than April-June period.
Infosys chief financial officer Ranganath D Mavinakere said the company wants to give a more "accurate picture on guidance" after it executes the second quarter of FY2016-17 (July-September).
Infosys had disappointed the street by slashing its annual sales growth forecast to 10.8-12.3 per cent in US dollar terms for 2016-17, down from the previous forecast of 11.8-13.8 per cent rise.
This sent the stock crashing the most in a single day since Vishal Sikka became CEO more than two years ago.
Speaking to analysts, on Friday, Sikka said Infosys continues to see healthy deal pipeline.
He also stated that the company is not laying off any employees, saying "every employee at Infosys is valuable. There is no involuntary attrition."
There were reports that Infosys was laying off 500 staff but the company denied reports saying there had been a 'few separations in response to performance and disciplinary issues', which were unrelated to contract losses.
Photograph: Anindito Mukherjee/Reuters