Currently, companies are taxed in the jurisdictions in which they have a physical presence. However, digital businesses generate revenues from markets without a significant physical presence in a country.
Illustration: Uttam Ghosh/Rediff.com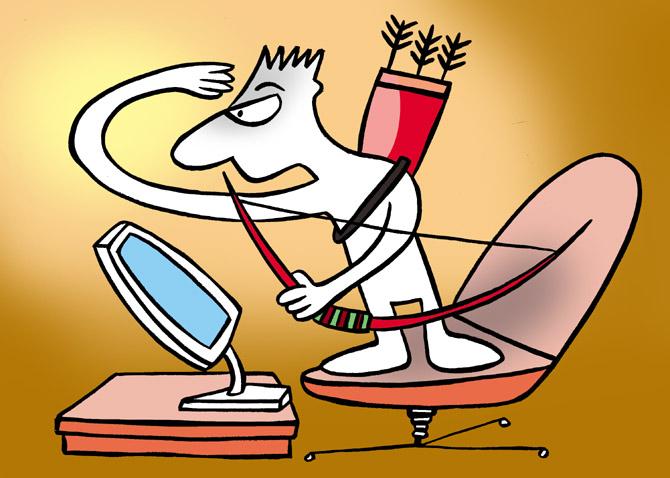 After global recognition to its equalisation levy on online advertisements from Facebook, Google or Netflix imposed two years ago, India is set to pitch for an international tax measure to tax these companies that earn revenues from a large user base in the country.
The framework, technically called the multilateral instrument to implement tax-related measures (MLI) to prevent base erosion and profit shifting (BEPS), will avoid the need to amend individual bilateral treaties.
In an interim report - Tax challenges Arising from Digitalisation - released last week, the Organisation for Economic Co-operation and Development (OECD) suggested the use of interim measures like equalisation levy by countries to tax these companies till a long-term multilateral solution is reached.
There was, however, no consensus on a long-term measure.
"The OECD has recognised India's equalisation levy measure, which may be followed by the European Union countries shortly.
"Now, New Delhi will pitch for a multilateral instrument or a permanent measure to tax digital companies through the widening of 'nexus' and 'profit allocation' rules by 2020," said a government official.
Currently, companies are taxed in the jurisdictions in which they have a physical presence. However, digital businesses generate revenues from markets without a significant physical presence in a country.
These companies generate profits out of customers in a country but do not pay taxes there.
So far, there has been no consensus among the OECD members on an action to tax technology companies based on user base in a location.
The panel under BEPS - Taskforce on Digital Taxation - is expected to come up with a final report by 2020.
"We are going to strongly pitch for a global framework to tax digital companies. We have the backing of a few countries so far, including the UK and Brazil," said the official.
The US is learnt to be opposing the principle to tax companies based on end-user base for digital companies alone, but instead wants it to apply to the broader economy.
The UK however, has pitched for taxation of digital companies based on user contribution.
Nexus and profit allocation rules are to do with allocation of taxing rights between jurisdictions and the determination of the relevant share of the multinational enterprises' profits that will be subject to taxation in a given jurisdiction based on economic activity and value creation.
The 2018-19 Budget proposed to suitably amend the Income Tax Act to tax technology companies.
However, the existing double taxation avoidance agreements (DTAAs) are not covered under the proposed change, requiring New Delhi renegotiate the tax treaties.
Taxing companies like Facebook, Google, and Netflix will require renegotiation of the India-US tax treaty, which is a tedious task.
In the past, negotiations stretching over 20 years had led to the signing of the agreement in 1989.
However, MLI will automatically amend bilateral tax treaties to include the taxation provision for digital businesses, avoiding the pain of separately negotiating existing treaties.
India has DTAAs with 82 nations, including all popular tax haven countries.
"We will insist there is an MLI on digital taxation. We have taken a lead and laid the ground for negotiation.
"Many countries may come together to sign MLI and the treaties will get automatically amended," said the official.
"The US firmly opposes proposals by any country to single out digital companies," said US Treasury Secretary Steven Mnuchin in response to the OECD report.
"Some of these companies are among the greatest contributors to the US job creation and economic growth.
"Imposing new and redundant tax burdens would inhibit growth and ultimately harm workers and consumers," he added.
Taxing digital economy is also being discussed under the BEPS framework, which aims to check cross-border tax evasion by global companies through exploiting gaps in tax treaties and tax planning strategies.
According to the amendment proposed in the Budget, the Income Tax Act will provide 'significant economic presence' in India will also constitute "business connection".
Significant economic presence could include a download of data or software in India or engaging interaction with a prescribed number of users in India through digital means.
In 2015-16, Finance Minister Arun Jaitley had introduced a 6 per cent equalisation levy for online advertisements, but constituted only a small portion of the operation of these companies.
The government has collected over Rs 6 billion through equalisation levy in the current fiscal year.
The European Commission is expected to come out with a digital tax targeting revenues rather than profits.
According to reports, it will propose 3 per cent tax on advertising revenues generated by digital companies; the fees raised from users and subscribers to digital music services, and the income made from selling personal data to third parties.
A click away

OECD in its recent report recognises equalisation levy imposed by India two years ago
India to pitch for global mechanism, technically called MLI, for digital tax
If that happens, India need not revise tax treaties for the tax
Countries such as the US, the UK back India