Apart from digital advertising revenue, both companies want to reach out to the 'next billion' Indian customers. After all, around half of the 1.3 billion population is still not on the net and this represents a challenge as well as an opportunity.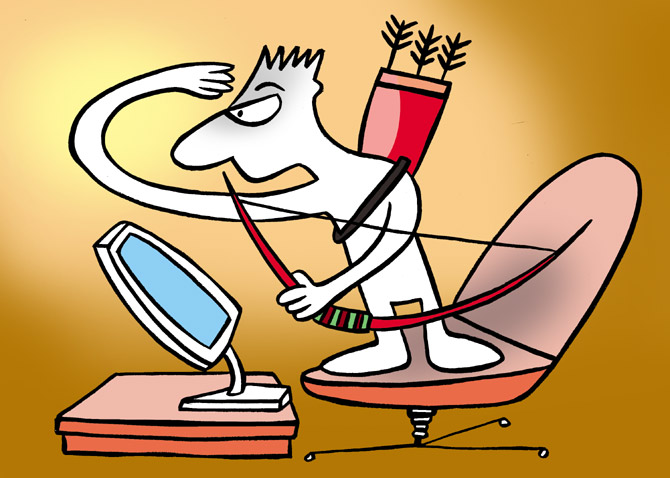 With Google and Facebook both investing billions, India is set to be their next big battleground.
Last Monday, Sunder Pichai, Google Inc CEO, said the company will invest $10 billion in India in the next 5-7 years.
The cash it has promised through a country-specific fund is nearly double the $5.7 billion that its rival Facebook invested less than three months ago to buy a 9.9 per cent stake in Jio Platforms which controls Reliance Jio and various other platforms.
Google's decision is a landmark.
But if one goes beyond the optics (the announcement was made in the presence of Communications Minister Ravi Shankar Prasad), it is in line with what both technology giants have been putting into India annually to build and expand their presence.
Some technology analysts say that the difference in the figures is not so great in that Facebook's money has already come in and, within a similar timeframe, they expect it to invest a similar amount in infrastructure and expansion.
There is even talk that Google, whose initial talks with Jio Platforms did not result in a deal, is back on the table again and might well invest $4 billion in Jio Platforms because the latter has no exclusivity clause with Facebook.
Moreover, Google has also had talks with Vodafone-Idea for an equity partnership, prompted by the latter's cash crunch.
A lot is at stake for Google and Facebook.
Even though they collaborate in many areas (Facebook apps are on Google's Android platform and they also advertise in each other's platforms), there is no doubt that both want to capture a larger share of the lucrative and growing digital advertising which forms the mainstay of their revenues currently.
According to Dentsu Aegis Network, digital advertising will hit Rs 28,000 crore in 2024, compared to Rs 13,600 crore in 2019.
According to Bloomberg, Google is way ahead in the game.
While the total ad revenues of Facebook and Google reached Rs 11,500 crore in FY19, Google grabbed 80 per of it (Rs 9,203 crore) while Facebook had to settle for Rs 2,233 crore.
The two companies together have around 70 per cent of all digital ad revenues.
Apart from digital advertising revenue, both companies want to reach out to the 'next billion' Indian customers.
After all, around half of the 1.3 billion population is still not on the net and this represents a challenge as well as an opportunity.
Despite the low internet coverage as a percentage of the population, India has the second largest internet population (688 million) after China.
Cheaper feature phones and data are already pushing more consumers into the club.
In 2015, Facebook made an aggressive but abortive attempt to push for more Indians to go online through its 'Facebook Basics' idea by tying up with telcos to bring the masses online.
The attempt was a fiasco.
It was attacked vociferously for violating India's 'net neutrality' laws and forced to abandon the project.
Since then, it has been under scrutiny for not doing enough to curb fake news and posts propagating violence and hatred and failing to protect data privacy, among many other complaints.
This kind of intense scrutiny and criticism is not a problem Google has faced, or at least not to the same degree.
Despite the challenges that India poses, there are four platforms which dominate the usage and customer base.
WhatsApp has over 300 million regular customers. Estimates suggested that Facebook has 328 million accounts in the country.
In the other camp, Google has YouTube which is pretty close to over 265 million active users every month with over 300 channels on offer.
And, of course, Google's search engine virtually controls over 98 per cent of the search market.
As such, both titans are evenly poised for the next battle.
There are also newer opportunities to monetise.
In payments, Google Pay dominates the peer-to-peer payments category with nearly half the transactions under its belt.
But taking it on soon will be WhatsApp's payment offering which is waiting for regulatory clearances.
With a large active user base, WhatsApp will give Google Pay a run for its money.
In other areas though where Google is clearly entrenched such as YouTube, Facebook Live will have to walk a long mile.
In e-commerce, Reliance Retail's tie-up with WhatsApp will help the Mukesh Ambani company to leverage the large customer base of the messaging app to quick start Jio Mart, its e-commerce platform which is expected to have a commercial launch very soon.
Without this, Reliance Retail would have faced a harder struggle to get customers given that Amazon is so far ahead.
What's more, the ease of use of WhatsApp will become a key interface for the 30 million small kirana shops that Reliance is planning to bring in as its last mile suppliers to home.
For Google, this is an area where it has to figure out its strategy.
Both companies are looking at partnerships to expand their India business.
Pichai said the $10 billion will be routed through a mix of equity investments as well as partnerships.
Facebook already has a partnership going with Reliance and is scouting around for others.
Facebook also faces regulatory challenges on data security and issues about a new proposed direct tax which it will have to pay on profits earned locally.