The steep rise in prices of key components, coupled with a ban on the import of finished sets, is expected to hit prominent Chinese brands, such as OnePlus, Xiaomi, TCL, and Realme.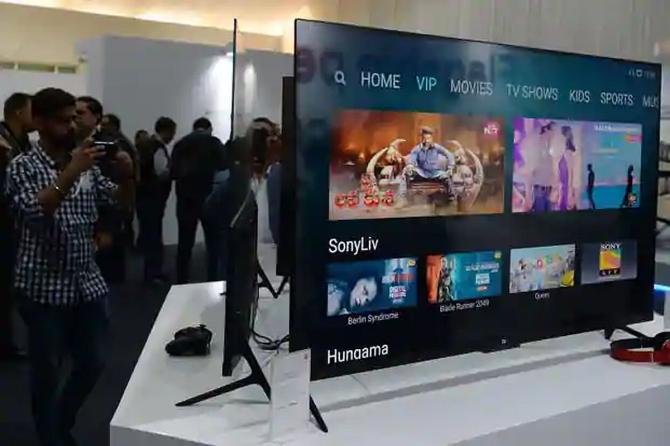 Disruption in business activity and crunch in the supply of components have taken a toll on television (TV) manufacturers.
The latest rules - restricting the import of finished TV sets - may further aggravate the situation.
The steep rise in prices of key components, coupled with a ban on the import of finished sets, is expected to hit prominent Chinese brands, such as OnePlus, Xiaomi, TCL, and Realme.
The restrictions have impaired a clutch of consumer electronics majors dependent on imports from China and Vietnam.
Leading brand Xiaomi, which imports TV sets larger than 49 inches from China, has been impacted.
Estimates suggest the fourth-largest TV brand in the country imports close to 20 per cent of its TVs.
"Xiaomi has been manufacturing smart TVs in India since the launch of Mi TVs in 2018.
"Currently, over 85 per cent of the Mi TVs sold in India are manufactured locally," said the firm spokesperson.
According to the Consumer Electronics and Appliances Manufacturers Association (CEAMA), Xiaomi held 13 per cent share of the 17-million-a-year local TV market in 2019.
Chinese TV major TCL's dependence on imports is not low either.
Estimates suggest it imports over 50 per cent of its portfolio from China.
According to Mike Chen, general manager, TCL India, while it has a plant at Tirupati (Andhra Pradesh), it will take time to localise the high-end models.
The plant is capable of producing models up to 55 inches and TCL will increase localisation, following the recent order. Currently, it imports 35 per cent of its TVs from the US, Brazil, and Thailand, said Chen.
Smartphone majors like OnePlus and Realme entered the fast-growing smart TV space recently.
These, along with Indian brand VU, import nearly all TVs they sell here.
While they have plans to begin procuring locally, their business is expected to get hit in the short term.
Moreover, what is haunting most TV marketers is the steep price hikes on components.
During the initial phase of the Covid-19 pandemic - in February - disruptions in the supply chain in China yanked up prices by 30-40 per cent.
By July, the rise had been 50 per cent on TV panels.
Flat panels that are totally imported, primarily from China, form over 65 per cent of the cost of manufacturing a TV set.
According to Avneet Singh Marwah, chief executive officer, Super Plastronics, price hikes are inevitable now.
"Nobody can absorb this kind of rise in cost," said Marwah.
This has further increased the burden on Chinese players, most of whom operate on wafer-thin margins.
Xiaomi, for example, has a stated objective of keeping its net margin lower than 5 per cent.
Others, too, operate at a similar level, said sources.
Chen, however, ruled out any price hikes at TCL.
"We make sure that the products given to our customers are of utmost quality.
"India is a price-sensitive country, where we customise products for the Indian audience, so that they can afford it," he said.
Targeting China
The restrictions imposed by the Centre on the import of finished TV sets that have screen size larger than 14 inches is primarily aimed at controlling imports from Vietnam and China.
While manufacturers will still have options like securing licences for import, sources said, it will help the government restrict imports from China.
"The plan is to issue licences on a case-by-case basis.
"Now, authorities will have the power to directly control imports from China," said a person familiar with the matter.
The data from the Department of Commerce shows that in 2019-20, the share of finished TV imports of the total TV-related imports came down, while total imports surged.
While Rs 8,500 crore worth of TV sets and components were imported from China, the share of finished sets stood at 26 per cent or Rs 2,200 crore.
Photograph: Reuters