A bunch of CEOs in their mid-30s and early 40s are trying to rectify the scenario where shady lending applications trap hapless borrowers with astronomically high interest rates and even bodily harm if the money was repaid.
Anup Roy reports.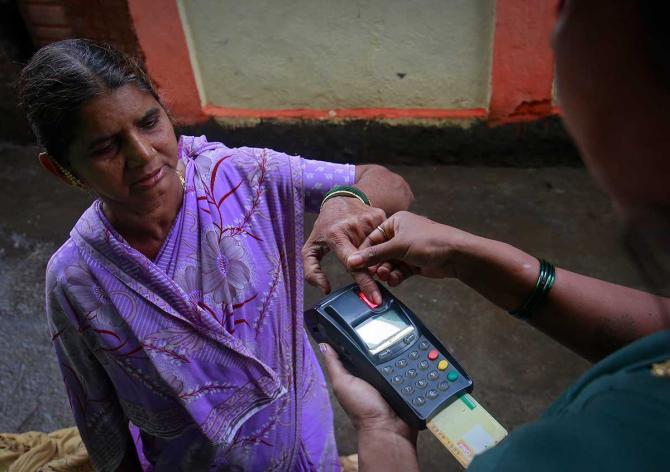 As the pandemic pushed people towards economic desperation, shady lending applications mushroomed, trapping hapless borrowers with astronomically high interest rates and threats of bodily harm when the money was not repaid.
These unscrupulous lenders, originating from various countries, including within India, are simply known as 'Chinese Apps'.
They are hard to stop despite the Reserve Bank of India (RBI) coming down hard on the non-bank financial companies (NBFC) supporting these apps from a deep-layered background.
This is largely because borrowers themselves are not aware about the unscrupulous lending practices until it is too late, and those that are in the business following all rules have no voice.
A bunch of CEOs in their mid-30s and early 40s are trying to rectify that.
They are bringing all technology-focused, regulated lenders under a common industry association named FinTech Association for Consumer Empowerment (FACE) so that a common ethical lending practice code of conduct can be evolved, and customers be made aware about their rights and how to avoid the pitfalls of falling for loan-sharks in smartphones.
Besides, FACE can also act as the voice for the industry to engage with the governments and regulators while formulating policies in the space.
The platform can be also used to disseminate research in the field and act as an industry lobby group, much like Indian Banks' Association, or MicroFinance Institutions Network (MFIN).
The founding members of FACE are also the founding members of top fintech lenders in the country -- Akshay Mehrotra of EarlySalary, Satyam Kumar of LoanTap, Ranvir Singh of Kissht, Yogi Sadana of CASHe, Madhusudan E of Krazybee.
These five companies control roughly 75 per cent of the market space, and between them, in the past three-four years, they have facilitated disbursements of over Rs 21,000 crore either directly, or as partners, serving 45 lakh customers across 19,000 locations across the country.
The fintech lending industry is constantly evolving, and these companies may not remain at the top, but they want to make sure a united voice is formed for the future.
The association also has three governance council members -- Srinath Sridharan, strategic counsel and independent markets commentator; Ram Rastogi, independent digital payment strategist; and Avtar Monga, managing partner at Stride Ventures.
"Industry self-governance is critical and the need of the hour; we need, as a responsible industry, to weed out subprime lending products & players and build similar governance rule followed in banking and NBFC for capital governance and consumer products," said Mehrotra of EarlySalary.
"As we build FACE, we want to send a message as an industry and a common message that we want to protect the best interest of consumers, improve convenience in doing fintech lending and help build a better industry," Mehrotra said.
The so-called Chinese apps piggy bank on two loopholes -- firstly, capital to lending entities in NBFCs and fintechs can be routed through any origin or lending can be made by an off-balance sheet lender and thus the regulatory scrutiny can be avoided for some time.
Once discovered, these apps can quickly close their operations and resurface in a new name.
Since there is no restriction on lending rate or duration as such, the lenders with a foreign origin can offer Rs 500 to Rs 50,000 at 100 per cent to 800 per cent interest rates for tenures of seven days to six months.
These lenders resort to criminal means of recovery, and since these are not regulated properly, they can wreak havoc to the borrower's life, often leading to suicides.
On the contrary, the regulated fintech lenders follow strict rules by the RBI, and are in the process of bringing more people in the credit market by creating their credit profile.
The fintech lenders mostly target people in the tier-II or lower cities, or in the urban unbanked areas, which are hungry for credit but have no access to funding.
Madhusudan E of Krazybee estimates a potential customer base of 400-500 million still unserved by formal credit.
"Every year, we are bringing 2 million new to credit customers to credit scores," said Madhusudan, and therefore, the industry can only expand at this stage at a rapid speed, for which self-regulation is needed.
The fintech lenders themselves are growing at three-four times every year, albeit at a small base.
But they can do so even without disturbing the banks' customer base.
This is a space that banks don't venture into, for example, giving loans to students.
The fintech companies don't have the same physical presence as banks, but the delinquencies are also low because the fintech companies use cutting edge technology for data evaluation and deep analytics.
"We may not have the physical presence, but the technology and processes we follow are not easily available to banks," said Ranvir Singh of Kissht.
Borrowing using the smartphone "is going to be the way of life," said Yogi Sadana of CASHe, "just as our life in urban areas itself is becoming a bit like that in the west."
And hence, fintech lending will only gain more currency, and "we cannot airbrush unethical practices in lending anymore".
"We not only want everyone to follow ethical lending practice, we want to communicate it too," said Mehrotra.
*Kindly note the image has been posted only for representational purposes.
Feature Presentation: Ashish Narsale/Rediff.com