The company will invest additional $60 million in India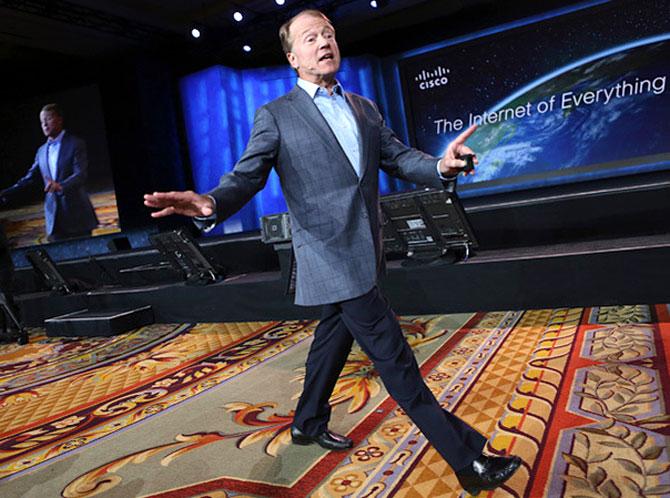 US technology giant Cisco on Thursday said that it is committed towards manufacturing in India and will invest $1.74 billion in the country this year.
The company, which pumps in $1.7 billion every year, at present, will invest additional $60 million on training and facility expansion.
"We are investing big in India. We are committing manufacturing in India. We need to skill people here for the jobs. We plan to directly and indirectly invest up to $20 million to train additional 120,000 students by 2020," Cisco Systems Chairman and CEO John T Chambers said in New Delhi.
A company spokesperson said that while $20 million investment on training is spread over five years, the $40 million investments on expansion of facility is going on at the moment.
"We have revenue of about $1.1 billion from India and we expect our India business to grow in double-digits over next four-five years," Chambers said.
Cisco leaders said that they met Prime Minister Narendra Modi this morning and discussed company's manufacturing and business commitment for India under Digital India programme.
"We met Prime Minister this morning and he was very clear about his vision for people and how technology can change life of individual here. Indian is our second headquarter and prime minister today said that make it your home," Chambers said.
Chambers said that the company has not identified products that will be manufactured in India but there is no limit on the range that can be made here.
"We can do manufacturing in two quarter once we have process, taxes and regulation lined up. It is not for Cisco only but for entire ICT industry," the CEO said.
Chambers, however, did not explain regulatory and tax structure-related changes that company expects government should put in place.
"It will depend probably of development of broadband, defence contracts...in the country," he said.
Cisco leaders also met Telecom Minister Ravi Shankar Prasad and expressed commitment to partner in Digital India programme.
Chambers will step down as Cisco's CEO on July 26.
Company's CEO designate Chuck Robbins said that the company invests $1.7 billion every year, which includes $250 million on its facility in India and rest on its workforce.
"If you think about different initiatives that are part of Digital India, we believe we can play tremendous role in everyone of these. If manufacturing is important for you, for your government, it is important for us too," Robbins said.
To accelerate the development of India's electronics manufacturing ecosystem, Cisco will organise a conclave of 75 of its key suppliers in Bengaluru in February to drive collaboration on product development here, Chambers said.