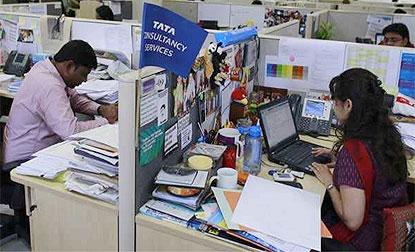 Tata Consultancy Services (TCS) has clarified that it has not initiated any large scale layoffs as claimed by the media in past few weeks.
There have been a series of source-based media reports suggesting that TCS has either laid off a major chunk of its employees, or is planning to do so in near term.
The IT bellwether has in a statement said:
"There have been discussions on various social media forums about the alleged large scale layoffs at TCS. In the last few weeks, we have reached out to our employees and clarified that these are entirely false and baseless claims. "
The statement further said that performance appraisals and associated processes are an integral part of the company's operations.
"Given the circumstances, as an exception we are sharing specific data on the actual quantum of involuntary separations over the last 3 years, which establishes that there has not been any exceptional action in the last few months. . "
The involuntary attrition for the first nine months of this year has been 2,574 employees which represents 0.8 per cent of the total employee strength.
The corresponding numbers for FY14 and FY13 were 2,203 and 2,132 respectively.
The total involuntary attrition for the current fiscal year will be hardly be a per cent of the entire workforce.
TCS is the leader in the Indian IT industry and has always built its organisation on strong employee values, it said.
"We have consistently nurtured our in-house talent and have also been the largest job creators in the country. Our leadership status continues to present many growth opportunities for all our employees, and it is reflected in the fact that we have consistently had the highest employee retention levels in the industry."