With the availability of talent, entrepreneurial spirit and potential to leverage technology to innovate, the country's growth ahead will be incredible, feels N Chandrasekaran, chief executive and managing director of Tata Consultancy Services (TCS).

The situation is changing in the immediate future as there are initial signs of global demand picking up, Chandrasekharan said at the fourth National Finance Conclave, organised by the city-based KIIT School of Management.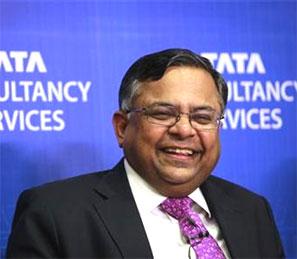 'Micro-indicators changing'
"In 2012, the S&P 500 companies have delivered outstanding financial results. The total consolidated revenue of the top S&P 500 companies has grown about nine per cent last year to cross $10.4 trillion and the consolidated profit has grown 17 per cent and has crossed $1 trillion," he said.

There has been a distinct trend change in the micro-indicators like rising auto sales and consumer confidence index in the last 20 quarters, Chandrasekaran stated.

He said global demand was picking up and the transition of an economic era was presenting huge opportunities. All we need to do is talent re-skilling, framing pro-market policies and so on, he suggested.

Speaking on the sidelines of the seminar, Manoj Panda, centre head (Bhubaneswar) of TCS, said: "We will be adding 4,000 more employees by next year and the infrastructure is ready to accommodate them."

The Bhubaneswar development centre of TCS currently has a headcount of around 2,000 and handling about 40 projects, mostly overseas projects.

In the state, TCS is implementing the e-municipality project and the Odisha Secretariat Workflow Automation System.

The software company will create more facilities to accommodate 6,000 more employees by 2015. "We are expecting to export around Rs 300 crore from this centre in this financial year compared to Rs 220 crore (Rs 2.2 billion) in the last financial year," Panda added.