While Tata has an upper hand like in-house products and brands, RIL has the backing of global biggies like Google, Facebook and Microsoft.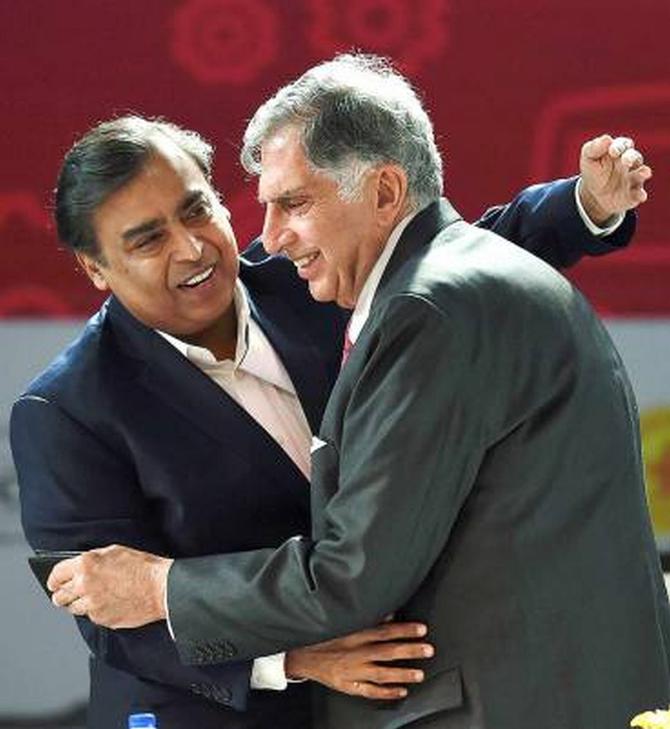 Mukesh Ambani-owned RIL's JioMart is set to launch a slew of new products including financial services, electronics to airline tickets to take on the competition from upcoming rivals like the Tata Super app and other established players including PayTM, Amazon and Flipkart.
This comes at a time when RIL's e-commerce revenues are set to grow by 35 per cent to $15 billion within four years and its core retail revenue is expected to grow at the same pace to $44 billion, as per a forecast by Goldman Sachs.
"The Tata vs JioMart war will be the next big corporate battle to watch.
"While Tata has an upper hand like in-house products and brands, RIL has the backing of global biggies like Google, Facebook and Microsoft," said head of a rating firm asking not to be quoted.
"We forecast 50 per cent market share for RIL in online grocery by FY25, with 30 per cent market share in overall ecommerce.
"This translates into $35 billion ecommerce GMV (gross market value) for RIL by FY25, with $19 billion in grocery and rest by non-grocery.
"Overall, we expect retail EBITDA (earnings before interest, tax, depreciation and amortization) to grow 10 times from current levels by FY30," Goldman Sachs analysts led by Nikhil Bhandari said.
After growing five times between FY16 to fiscal 2020, analysts said RIL's core retail revenue growth has taken a pause in FY21 due to Covid related nationwide shutdown.
"We believe retail business including e-commerce is set to be the next growth engine for RIL, with potential for retail EBITDA (earnings before interest, tax, depreciation and amortization) to grow 10 times over the next 10 years.
"We see a six-fold increase in grocery organized retail penetration in India by FY30, coupled with 15 per cent market share gain for RIL," say analysts with Goldman Sachs.
A large part of this explosive growth will come from Reliance's superapp, JioMart which is already selling several produces ranging from groceries, clothes, pharmaceuticals and personal/home care products.
Its rival, Tata Digital, a subsidiary of group holding company, Tata Sons, has said it will be launching financial and travel related products like airline tickets and hotel bookings apart from selling their own in-house products in their platform.
Tata already has strong brands like Tata Motors, Tata SIA Airlines and Air Asia India apart from Indian Hotels – the operators of Taj group of hotels which can sell their products on its super app.
It also acquired companies like pharma chain, 1MG and grocery retailer, Big Basket which will add value to its super app.
Analysts said while JioMart will also do hotel bookings from companies like Oberoi Hotels where it has invested, it is also in talks with airlines to sell tickets on their platform.
"While Tata has several strong group companies which can sell their products on Tata superapp, JioMart will unleash competition which is never seen before," said a top executive of a MNC consumer product company asking not to be quoted.
RIL's firepower will come from its foreign partners like Google, Facebook and Microsoft who poured billions of dollars in Jio Platforms Ltd, a RIL group company.
Several new product are expected to be launched in association with these global biggies in the coming months.
"Apart from these companies, several private equities have also invested in Jio Platforms Ltd – which is providing the digital backbone for JioMart.
"These PEs will bring in products from their own investee companies to launch products. Hence, it is a win-win deal for both," said head of PE major.
Besides, industry insiders said RIL will be getting an added advantage of private label products on Jiomart which are 36 per cent lower priced than rival brands in personal care, 20 per cent lower in home care and 20 per cent less than rivals in packaged foods and beverages.
"Reliance also has the advantage of being the manufacturer of key ingredients or packaging material for a lot of the home and personal care products through their petrochemical business.
"This backward integration can allow Reliance to price products better than brands or other retailers," Bhandari said.
Reliance Retail currently is the largest retailer in India by market share and a market leader in three of the largest retail categories - food & grocery, electronics and fashion & apparel, categories, which together represent 76 per cent of the retail market in India.
However, except electronics, Reliance and organized retail overall still have a significant opportunity to gain share from the unorganised and fragmented market, especially in grocery and fashion, where RIL continues to focus on tier 2 and 3 cities where competition remains low.
Photograph: PTI Photo