Nowadays banks and fintech companies are ever willing to extend a loan, even to people who do not have much of a credit history, says Sanjay Kumar Singh.
Illustration: Dominic Xavier/Rediff.com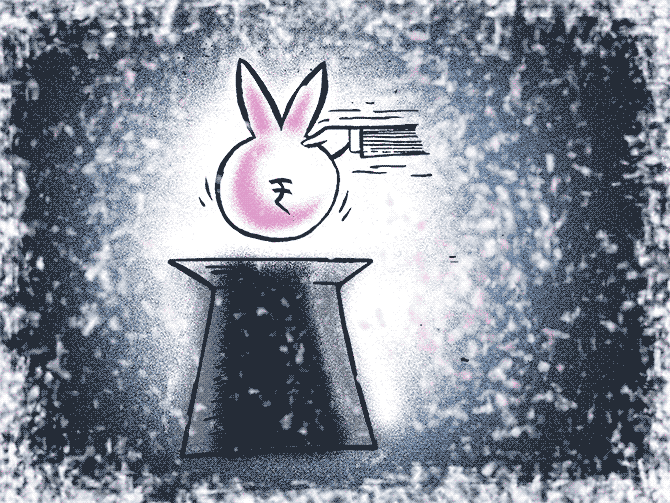 With the economy slowing down, and sectors like auto and auto ancillaries, small and medium enterprises, and so on witnessing job losses and distress, retail loan growth is slowing down, according to Reserve Bank of India data.
SBI Mutual Fund chief investment officer Navneet Muhnot, too, pointed out recently that households have been saving less and borrowing more to fuel consumption, a phenomenon, he said, that cannot continue indefinitely.
Credit bureaus, too, have in recent times reported signs of rising stress in lenders' retail loan portfolios.
Nowadays banks and fintech companies are ever willing to extend a loan, even to people who do not have much of a credit history.
The responsibility lies on the borrower to exercise self-restraint.
"The sum total of all your EMIs should not exceed 50 per cent of your net take-home monthly income," says Hrushikesh Mehta, country manager-India, ClearScore.
Lenders are even willing to extend loans up to 60 per cent EMI of net income, based on expectations of salary increment.
"If the expected 10-15 per cent increment does not materialise, you could get into trouble," says Arun Ramamurthy, co-founder, Credit Sudhaar, which helps customers repair their credit profiles.
Those who have loans running should set up a contingency fund.
If you lose your job or face a medical emergency, this fund will be able to absorb the impact.
Contingency reserves should equal at least six months of expenses.
But what if a person has taken on too much debt and now finds it difficult to repay them? Credit card debt is most commonly responsible for defaults.
If a person pays only the minimum amount and revolves the balance, his outstanding debt could balloon very fast as the rate of interest on this loan is very high -- up to 48 per cent.
Such a person should replace his high-cost credit card debt with a lower-cost personal loan, on which banks charge an interest rate of 9.3-21.5 per cent.
Somebody who has taken too many personal loans, or whose credit score has been affected by a default, may find it difficult to get this loan.
He should try to raise a collateralised loan.
"If you have gold jewellery, use it to take a gold loan. Since it is a secured asset, you will be able to get it even if your credit score has been affected," says Manu Sehgal, head of business development and strategy, Equifax, a credit bureau.
Interest rates on gold loans are 9.24-29 per cent.
Loan against property (LAP) and top-up home loans are two other options that borrowers can exercise.
Interest rates on LAP begin from 9.65 per cent and go up to 22 per cent.
The range for a top-up home loan is 8.55-11.95 per cent.
"Besides a lower rate of interest, these loans also offer a longer tenure, allowing the borrower to lower his EMI and repay his debt more comfortably," says Mehta.
Finally, consumers in a debt trap must tighten their belts.
If you have taken a loan, do not take your obligation to repay it lightly.
"Delays and defaults affect your credit score. If it is poor, you will find it difficult to access loans in future, when you truly need them, say, to buy a bigger-ticket item like a car or a home," says Sehgal.